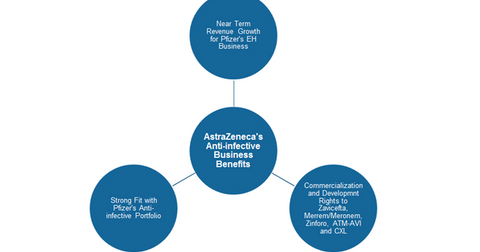 How Can Pfizer Revive Its Essential Health Business?
By Jillian Dabney

Updated
The Pfizer-AstraZeneca deal
On August 24, Pfizer (PFE) announced its acquisition of AstraZeneca's (AZN) small-molecule anti-infective portfolio, which is primarily outside the United States. This portfolio will fall under Pfizer's essential health (or EH) business category and seems to be a part of its strategy to offset the declining EH business.
Along with the EH business, Pfizer operates in the Innovative Health (or IH) business, which is its major growth driver. For detailed information on the IH business, please read A Look at Pfizer's Innovative Health Business.
Article continues below advertisement
Deal details
As per the agreement, Pfizer will pay $550 million to AstraZeneca upon the transaction's closure and $175 million in January 2019. Along with this payment, AZN will also receive $250 million milestone payments and sales-related payments of around $600 million. Pfizer will pay tiered royalties to AZN on future sales of Zavicefta and clinical development assets aztreonam-avibactam (or ATM-AVI) in certain markets. The transaction is expected to close in 4Q16 and shouldn't impact Pfizer's 2016 guidance.
The transaction involves AstraZeneca's three approved antibiotics, Merrem/Meronem, Zinforo, and the recently approved Zavicefta along with two development assets, ATM-AVI and CXL. Zavicefta won European Commission approval on June 28, 2016, for treating various complicated infections.
These kinds of "off-loading" deals between big pharmaceutical companies are not uncommon. On June 27, 2016, Sanofi swapped its Animal Health business for Boehringer Ingelheim's Consumer Healthcare Business. GlaxoSmithKline (GSK) acquired Novartis's (NVS) vaccine business in late 2015. With such deals, big pharmaceuticals are focusing more on their core operating areas.
If you're a risk-averse investor, investing in an ETF can offer you diversified exposure to the inorganically growing Pfizer. One option is the iShares U.S. Pharmaceuticals ETF (IHE). The fund invests 8.4% of its total assets in Pfizer.