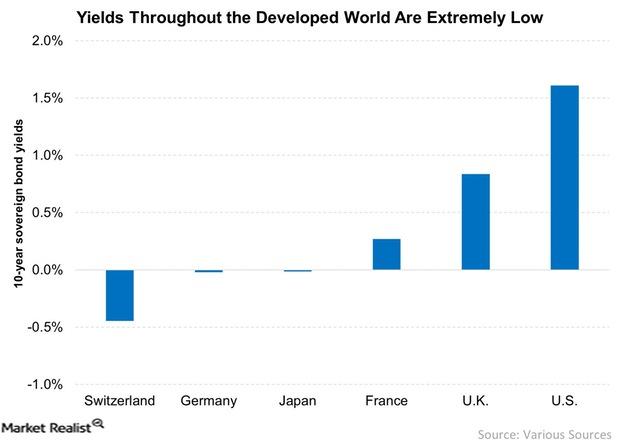 The Hot Asset Investors Are Chasing Currently
By VanEck

Sep. 13 2016, Updated 1:24 p.m. ET
Emerging markets debt has attracted investor attention this year, as current low and negative yields in developed markets have led many to look outside of core fixed income asset classes for attractive income. The asset class has benefited from several tailwinds since the start of the year, including a rebound in commodity prices, a restrained U.S. dollar, and expectations that U.S. interest rates will remain "lower for longer," even if the Federal Reserve decides to hike rates before the end of the year.
Strong investor interest in emerging markets debt is reflected in the inflows the asset class has experienced this year after enduring three years of outflows that began with the 2013 "taper tantrum".
Article continues below advertisement
Market Realist – Yield-thirsty investors have shifted their attention to emerging market bonds
The graph above compares the yields of some of the ten-year sovereign bonds that have been issued in developed markets. As you can see, ten-year sovereign bonds in Switzerland, Germany, and Japan are trading in the negative territory, while those in France and the United Kingdom are trading well below 1%. The ten-year US Treasury (IEF) seems relatively attractive, even though its yield is a paltry 1.6%.
Yields have been driven low due to the easing of monetary policies in developed markets to support growth that's been consistently low. This has caused yield-thirsty investors with relatively high risk appetites to venture into riskier assets in search of yields, including high yield bonds and, more recently, emerging market bonds.
Back in 2013, when the Federal Reserve signaled the winding down of its quantitative easing program, funds flowed toward the United States and out of emerging markets, which tend to be riskier, as yields rose.
Most emerging markets were rocked by a slump in commodity prices that was mainly caused by stumbling growth expectations in China (PEK). The slump caused outflows from most emerging markets, leading to the drastic weakening of their currencies.
However, emerging market debt (HYEM) is finally beginning to see positive flows. We'll highlight the reasons why in the remainder of the series.