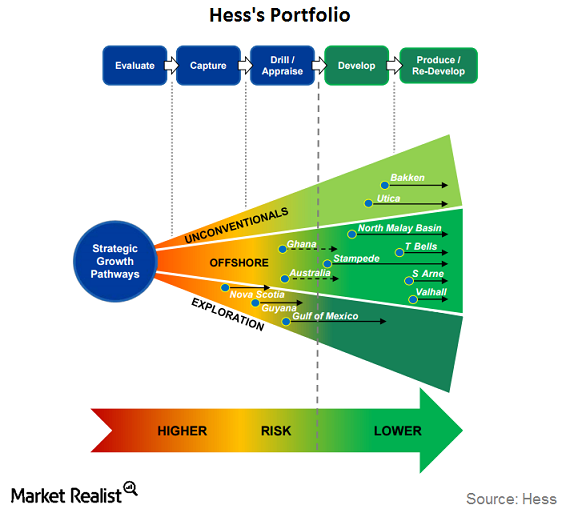 Hess's Management Objectives, Strategies in Focus
Hess's key management objectives
One of Hess's (HES) key management objectives is to "preserve growth options." In its 2Q16 earnings release, Hess said, "Our resilient portfolio provides an attractive mix of growth options including an unparalleled position in the Bakken, two significant offshore developments that will come online in 2017 and 2018, and the recent world-class oil discovery in Guyana."
In the above image, we can see that Hess sees growth opportunities in the Bakken and Utica plays. It also has several growth projects offshore, including its North Malay Basin and its Stampede projects. Hess also sees growth opportunities in its international operations in Guyana and the Gulf of Mexico.
Article continues below advertisement
Another key strategy deployed by Hess this year has been a reduction in its rig count. In its 1Q16 earnings conference, Hess noted that its Bakken rig count would be reduced from three rigs to two in 3Q16 and that it would maintain the count at this level until crude oil prices were ~$60 per barrel.
Other companies focusing on lowering their rig counts this year are Anadarko Petroleum (APC) and Apache (APA). These companies make up a combined 2.7% of the iShares Global Energy ETF (IXC).
Key comments from Hess's management
In HES's 2Q16 earnings conference call, its management said, "We have the balance sheet and liquidity necessary to invest in our future growth. Our three growth projects will make us a much stronger company in the next few years in terms of visible production and cash flow growth as well as improving returns."
The three growth projects are The North Malay project in Thailand, the Stampede project in the Gulf of Mexico, and the Guyana offshore project.