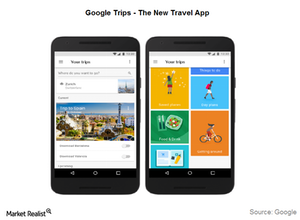 Google Trips: Could It be Google's Breakthrough in the Online Travel Space?
By Ally Schmidt

Updated
Google Trips
On September 19, 2016, Google (GOOGL) launched its brand new travel app, Google Trips. The app aims to be a tour guide, helping travelers develop an entire itinerary, which includes places to visit, the easiest way and means of getting to those places, and popular places to eat and drink. And it can do all this for around 200 cities across the world.
Article continues below advertisement
How does the app work?
No Google product is complete without it making use of Google's powerful search engine and other applications and so is this one. The app pulls all the travel data from your Gmail including flight and hotel reservations and the necessary contact information (available in the reservations tile seen in image above). Trips taps into Google's Maps app to help travelers find their way around. It also uses data collected from other travelers to show the most popular destinations.
The perfect trip
While Trips does pull out a sample itinerary for travelers, it also allows travelers to customize it according to their needs. Users can change plans according to time constraints.
The app also allows travelers to find more places to visit near a popular destination. Each tap of the magic wand will give an additional list of destinations, and all users have to do is pin selected places to build an itinerary.
Available offline
Perhaps one of the biggest advantages of the new app is its access all data offline. (Imagine being clueless in a foreign country with no access to the Internet!) Of course, travelers will have to download the data beforehand. And if you do have access to the Internet, the app offers additional information. For example, the visit timings to a particular museum, open or close status, and charges.
Other major players in this space include Priceline (PCLN), Expedia (EXPE), and TripAdvisor (TRIP). Investors can get exposure to OTAs (online travel agents) by investing in the PowerShares NASDAQ Internet Portfolio ETF (PNQI).
But the Trips app is not Google's first attempt to enter the online travel space. We'll discuss Google's other attempts in the next part.