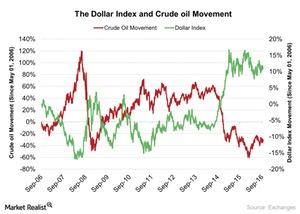 Why Goldman Sachs Lowered Year-End Oil Forecast to $43 per Barrel
By Sarah Sands

Updated
Goldman Sachs's view on crude oil
In the CNBC interview, Jeff Currie, head of commodities research at Goldman Sachs, said his firm has lowered its 2016 year-end target for crude oil (USO) (BNO) from $50 per barrel to $43 per barrel. Currie focused on three parameters that are indicating the crude oil (UCO) (UWTI) movement.
Currie said the first thing he's looking at is US (SPY) (QQQ) crude oil production. The rate of decline in US crude oil production is slowing down, which indicates that production growth will slowly increase.
The second thing Currie is focusing on is capital expenditures for oil and gas exploration companies in the last decade. Some companies had huge capital expenditures in the last decade, and now they're trying to make their production facilities more operational. This change will also increase crude oil production.
The third thing Currie is focused on is the so-called new oil era in which major oil producers of OPEC (Organization of the Petroleum Exporting Countries) and Russia aren't ready for production freezes. There's no proper coordination among OPEC members, and major exporters such as Saudi Arabia aren't ready for production freeze talks.
Article continues below advertisement
Crude oil and the movement of the dollar
Between September 2007 and April 2013, crude oil had a negative correlation with the US Dollar Index (UUP). This correlation indicates that the crude oil movement was inversely related to the US Dollar Index. However, from April 2013 to date, the one-month correlations between crude oil and the US Dollar Index have been both positive and negative. This is mainly due to some fundamental factors such as OPEC's production freeze discussions, US inventory data, and any major oil producer's decision. To learn more, read Why Is Oil Moving Independent of the Dollar?
In the next part of this series, we'll analyze Jim Grant's view on gold and central banks.