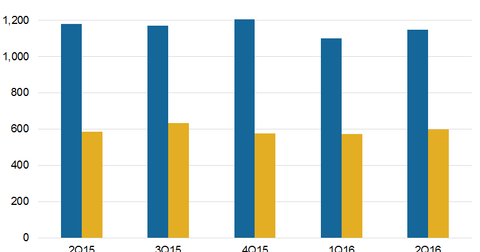 Global Network and Merchant Services Expected to Be Low in 3Q
By Robert Karr

Sep. 7 2016, Updated 9:04 a.m. ET
Global Network and Merchant Services
American Express's (or Amex) (AXP) Global Network and Merchant Services segment's revenues are expected to be low in the September quarter. The division operates a global payments network that processes and settles proprietary and nonproprietary card transactions.
The division acquires merchants and provides point-of-sale products, multichannel marketing programs and capabilities, and services and data. These products and services leverage the company's global closed-loop network. The segment's total revenues, net of interest expenses, fell 3% to $1.1 billion in 2Q16. These revenues formed 14% of the company's total revenue. Higher card member spending was offset by a lower average discount rate this quarter.
On a constant dollar basis, revenues remained flat. The division's net income stood at $373 million, a rise of 1% from $369 million in the prior year's quarter. The rise was mainly due to lower expenses in dollar terms.
American Express achieved net profit margins of 11% in its last fiscal year. Here's how some of its peers in the payment processing industry fared with their net margins in their last fiscal years:
Together, these companies account for 1.9% of the iShares Core S&P 500 ETF (IVV).
Expenses and initiatives
The division's total expenses fell 7% to $547 million in 2Q16 compared to $586 million in 2Q15. The decline was largely due to the OptBlue program, which represents a growing share of the company's merchant coverage and doesn't entail merchant acquirer payments.
Billed business for the Global Network and Merchant Services division rose 5%. On a constant dollar basis, the business grew 13%, reflecting its continued strong growth.
Billed business includes activities related to proprietary cards, cards issued under network partnership agreements, corporate payments, and insurance fees charged on proprietary cards.
Next, let's see how American Express continues to reward its shareholders.
Article continues below advertisement