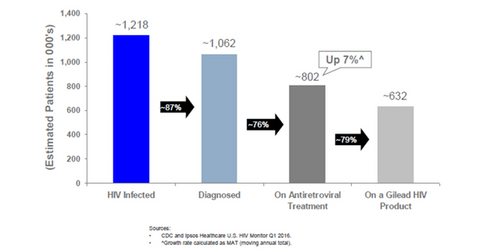 Gilead's TAF-Based Regimen Should Drive HIV Franchise Revenue
By Jillian Dabney

Sep. 26 2016, Updated 2:05 p.m. ET
HIV franchise
With products such as Descovy, Odefsey, Genvoya, Stribild, Complera/Eviplera, Atripla, and Truvada, Gilead Sciences (GILD) dominates the HIV (human immunodeficiency virus) market. 
The near-term threat to its existing HIV franchise includes the loss of patent protection at the end of 2017 for its original TDF (tenofovir disoproxil fumarate) with the brand name Viread. As a result, Gilead is trying to replace TDF with TAF (tenofovir alafenamide). The three TAF-based products—Genvoya, Descovy, and Odefsey—are expected to drive Gilead's revenue in the near term.
Gilead currently dominates the HIV space. About 632,000 patients in the United States have been on Gilead's HIV regimen.
Genvoya seems to be the potential driver for the company's HIV business. In the United States, ~78% of Genvoya prescriptions came from switches, and nearly half of those switches were from Stribild.
Genvoya earned $302 million during the second quarter of 2016. In the six months since the drug's launch, it has become the most prescribed regimen for treating naive as well as switch patients. Naive patients are those who have never undergone an HIV regimen.
Article continues below advertisement
Competition in the HIV segment
AbbVie's (ABBV) ritonavir and ViiV Healthcare's Triumeq and Tivicay are the major competitors for Gilead's HIV franchise. ViiV Healthcare is a global specialist HIV company formed in November 2009. It's a joint venture between GlaxoSmithKline (GSK) and Pfizer (PFE). In 2012, Shionogi joined these two big pharmaceutical companies. The company is solely dedicated to R&D (research and development) for HIV treatment.
The success of TAF-based HIV therapy might boost Gilead's share price. If you want exposure to the company, you can invest in the iShares Nasdaq Biotechnology ETF (IBB). IBB holds 8.2% of its assets in Gilead.
In the next part of the series, we'll take a look at analysts' recommendations for Gilead.