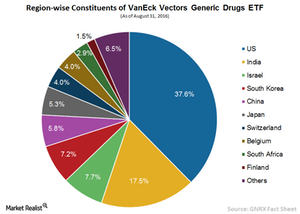 Why Generic Drugs Will Play a Key Role in the Future
By VanEck

Oct. 3 2016, Updated 10:05 a.m. ET
Regardless of who wins this election, generics will likely continue to play a key role in future healthcare plans. The challenge will come after the election when approval for any major changes must be won from Congress. VanEck VectorsTM Generic Drugs ETF (GNRX) is the first and only ETF that offers global exposure to generic drug producers.
Article continues below advertisement
Market Realist – Push for generic drugs to lower healthcare costs
Bigger impact
The 2015 report on "Generic Drug Savings in the United States" by the Generic Pharmaceutical Association showed that of the total prescriptions dispensed in the US in 2014, around 3.8 billion or 88% were generic drugs. Generic drugs introduced in the last decade are making an even bigger positive impact on the healthcare system in the country. They accounted for 57% of the cost savings in 2014. Despite making a substantial impact, generic prescriptions only accounted for 28% of total drug spending. However, the use of generic drugs is expected to grow rapidly over the next few years due to a number of important drugs coming off patent and the ongoing drive to lower healthcare costs.
Article continues below advertisement
Generic drugs ETF
Against this background, investors seeking exposure to generic drug companies can consider the VanEck Vectors Generic Drugs ETF (GNRX). GNRX is the only generic drug ETF available in the market. GNRX tracks the Indxx Global Generics & New Pharma Index. Its main constituents are companies earning significant revenue from the generic drug business. The most important advantages of GNRX is the international diversification and exposure to high growth generics companies from emerging markets.
As of August 31, 2016, US constituents accounted for 37.6% of GNRX's underlying index followed by India (17.5%), Israel (7.7%), South Korea (7.2%), China (5.8%), and Japan (5.3%). The top five holdings include Teva Pharmaceutical (TEVA), Sun Pharmaceutical, Mylan (MYL), UCB, and Perrigo Company with respective exposure of 7.6%, 6.8%, 5.2%, 3.8%, and 3.4%.