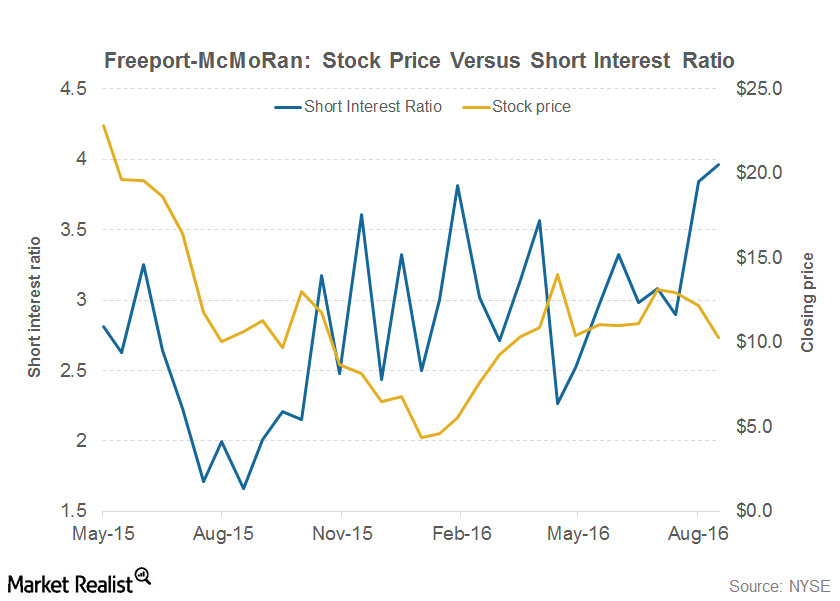 Freeport-McMoRan Bears Make a Comeback after 1H16 Rout
Freeport bears
Before we analyze Freeport-McMoRan's (FCX) short positions, we'll discuss a few key terms. Short interest shows the number of shares that have been sold short (SPXS). Exchanges release the short interest every two weeks.
From the short interest, we can derive the short interest ratio—the short interest divided by the average daily traded volume. Short interest and short interest-to-market capitalization basically standardize the short interest. It's natural that larger, more liquid companies can have high absolute short interest. Therefore, we standardize short interest to the company's market capitalization or trading volumes.
Article continues below advertisement
Short interest rises
According to the latest update, Freeport-McMoRan's short interest ratio stood at ~4 on August 31, 2016. The ratio increased from the previous update when Freeport-McMoRan's short interest ratio was 3.8 on August 15. Currently, the company's short interest ratio is the highest in more than five years.
Southern Copper (SCCO) and Teck Resources (TCK) have short interest ratios of 11.5 and 7, respectively, on August 31, 2016. BHP Billiton's (BHP) short interest was 4.6 on August 31.
Bears make a comeback
The current downtrend in Freeport is a welcome break for bears who literally got knocked out in 1H16. Rising risk-on sentiment combined with Freeport's debt reduction initiatives triggered a sharp upward price action in Freeport. It made things tough for bears who were betting against the company's revival. Since copper prices have pared most of their 2016 gains, bears seem to sense an opportunity.
Freeport is nearing a crucial technical support level breaching that could provide more impetus to bears. We'll discuss this more in the next part.