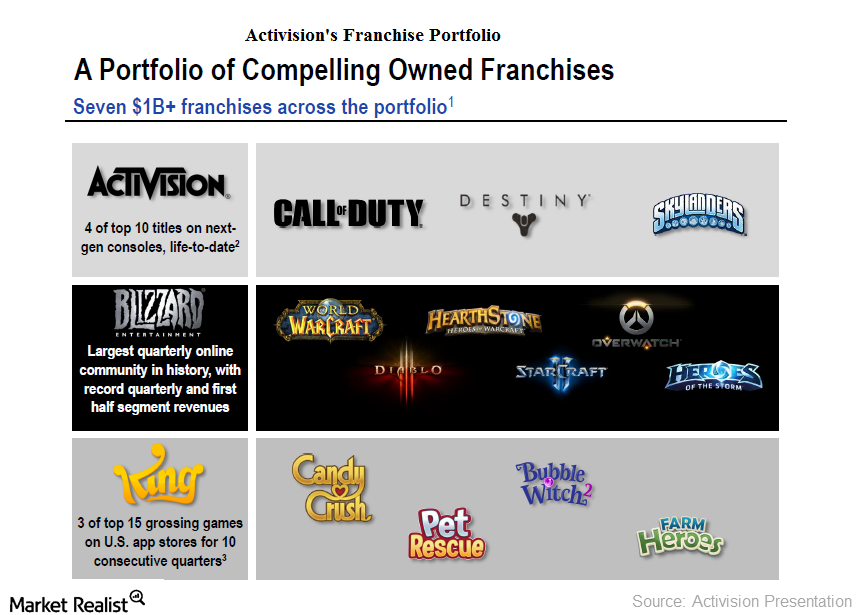 Why Are the Franchises Important in Driving Revenues for Activision?
By Adam Rogers

Sep. 2 2016, Updated 10:04 a.m. ET
Content and game launches in 2016
In July 2016, Activision Blizzard (ATVI) released Call of Duty: Black Ops III, which was available first on PlayStation 4 (SNE). In August 2016, Blizzard launched Summer Games content for its Overwatch game franchise. Blizzard is also expected to launch the highly anticipated World of Warcraft's Legion in September 2016. World of Warcraft is the number one subscription-based, massive multiplayer online role-playing games (MMORPG's) in the world.
Article continues below advertisement
In September 2016, Activision will also be hosting the finals for the Call of Duty World League Championships, where a number of teams will compete for a prize money pool of $3 million. In August this year, Activision's MLG (major league gaming) had already hosted a Call of Duty World League Event in Orlando with a total prize money pool of $100,000.
Strong level of engagement
As seen in the previous part of this series, the level of user engagement for Activision rivals that of Netflix (NFLX) and Facebook (FB). Netflix logged a viewership of 42.5 billion hours in 2015 and over 10 billion hours in 2Q16, whereas Facebook's video consumption was about 37 billion hours annually.
Activision's content pipeline includes new expansions for World of Warcraft and the Disney (DIS) universe in 3Q16 and 4Q16. Activision is also expected to benefit with the release of Warcraft the movie this year, as it could prompt first-time users to try out the game and encourage existing players to dive even deeper into the game. King Digital is also expected to launch another non-Candy Crush franchise by the end of 2016.
Now let's check in with Activision's outlook going forward.