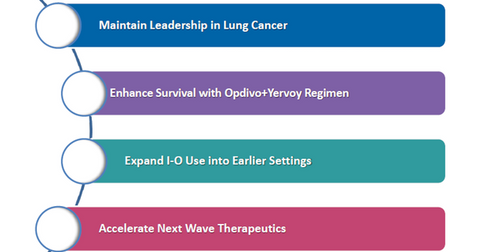 Bristol-Myers Squibb's Strategic Focus on These Areas Could Boost Overall Growth
By Margaret Patrick

Updated
Four strategic areas
Bristol-Myers Squibb (BMY) has planned to focus on four core strategic areas in the immuno-oncology segment, all of which are expected to boost the company's growth significantly in 2016. Such a growth boost would enable the company to pose tough competition to other immuno-oncology players such as AstraZeneca (AZN), Roche Holdings (RHHBY), and Merck (MRK).
Article continues below advertisement
Leadership in lung cancer
Based on data generated from multiple clinical trials and the various regulatory approvals obtained for Opdivo, Bristol-Myers Squibb aims to maintain its dominant position in the lung cancer segment. Opdivo has been widely accepted by both the physician and patient community in the US, both for squamous and non-squamous lung cancer.
The company is also witnessing the rapid uptake of the drug as a foundational therapy for lung cancer in all the major international markets where the drug has been launched. Dominance in the lung cancer segment may prove beneficial for Bristol-Myers Squibb's share prices. It could also boost the share prices of the iShares Russell 1000 Growth ETF (IWF). The company makes up ~0.87% of IWF's total portfolio holdings.
The Opdivo-Yervoy regimen
The combination therapy of Opdivo and Yervoy has been approved both in the US and the EU as a therapy for melanoma. This therapy is also being tested for multiple other types of cancer and is expected to demonstrate durable responses in patients.
In addition to efficacy, Bristol-Myers Squibb has also managed to control the toxicity of the regimen. This control would ensure that patients comply with the therapy for a longer period of time and enable sustainable growth for the drugs.
Article continues below advertisement
Expanded use
Based on data from clinical trials testing the use of the Opdivo-Yervoy regimen as a therapy for adjuvant melanoma, Bristol-Myers Squibb is confident that the regimen can prove effective as a therapy for locally advanced cancer such as non-small cell lung cancer (or NSCLC) as well as head and neck cancer.
Next-wave therapeutics
For patients who do not respond to Bristol-Myers Squibb's immuno-oncology regimens, who suffer from disease progression despite therapy, and who are been diagnosed with cancers for which the company's drugs have been ineffective, the company has been exploring other combination therapies and biomarkers. This unmet demand is expected to be a significant growth opportunity for the company in the future.
Continue to the next part for a look at Bristol-Myers Squibb's strategy for lung cancer in 2016.