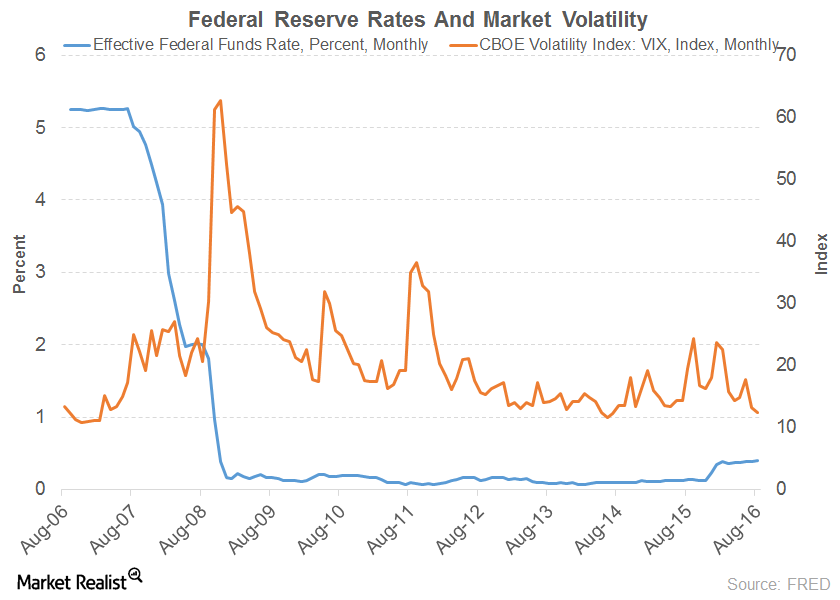 Divided Opinions about the Fed's Rate Hike Procrastination
By Matt Tucker, CFA

Dec. 2 2019, Updated 9:46 a.m. ET
Matt examines U.S. fixed income fund flow data since the last Fed meeting and points out some trends worth paying attention to.
The September meeting is usually one of the more important sessions of the year. It comes after the close of the summer, when trading and market activity typically starts to pick back up. It is also the first meeting after the Fed's annual summit in Jackson Hole. Investors look to the September meeting for new insights or guidance about the Fed's next steps.
Article continues below advertisement
Market Realist –The Fed is still indecisive
The Federal Reserve's two-day meeting came to a close on September 21, 2016, with the following takeaways:
keep the target range for the federal funds rate intact
update the economic growth outlook
The Fed left interest rates unchanged at 0.25%–0.50%, which was in line with Matt's expectations. Lael Brainard, a member of the Federal Reserve's Board of Governors, had already hinted at a very likely delay in a rate hike. The decision left many disappointed in a world that was divided about a rate hike.
However, there shouldn't be much room for disappointment if we look at the Fed's trend. It has left interest rates unchanged since December 2015 due to weak economic growth and lower-than-expected inflation. The December 2015 rate hike was the first since the 2008 global meltdown. At that time, the Fed was looking at multiple rate hikes throughout 2016. Now the Fed is hinting at the first rate hike of the year to come in December 2016, just as Matt suggested.
According to Bloomberg, there's about a 50% probability that the Fed will raise rates to 0.50%–0.75% in December. The Fed has downgraded the economic growth outlook for the third time in 2016 and lowered its forecast from 2.0% to 1.8%.
The Fed's projections
The median Fed rates for 2017, 2018, and 2019 were projected at 1.1%, 1.9%, and 2.6%, respectively. The Fed left the economic growth for 2017 and 2018 unchanged at 2.0%.
Let's look at some annual returns for ETFs: