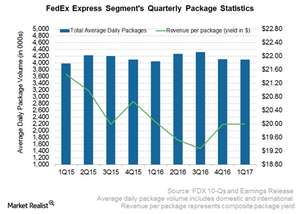 FDX's Express Segment a Star Performer for Shipper
By Samuel Prince

Updated
FedEx Express segment revenues in fiscal 1Q17
In fiscal 1Q17, FedEx Corporation's (FDX) Express segment reported revenues of $6.6 billion as compared to $6.5 billion in fiscal 1Q16. This represents a marginal rise of 1% on a year-over-year basis.
The Express segment was a star performer in all four segments of the company. The growth in revenues was mainly attributed to increased US Domestic Express Package revenue in fiscal 1Q17.
Article continues below advertisement
Domestic operations
FedEx's (FDX) total US Package revenues were $2.9 billion in fiscal 1Q17, up from $2.8 billion on a year-over-year basis. This reflects a rise of 2.7% and was mainly due to volumes and yield growth. The US domestic average daily package volumes in fiscal 1Q17 were up 1.3% compared with fiscal 1Q16.
Despite a lower fuel surcharge, the US operations' yield per package increased 2.5%. The year-over-year domestic package yield increased 2.5% due to rates and discounts. Barring the impact of a fuel surcharge, the domestic revenues rose 3.8% in fiscal 1Q17 on a year-over-year basis.
International operations
FedEx's International Express Package revenues fell 1.1% from $2.4 billion in fiscal 1Q16 to $2.3 billion in fiscal 1Q17. It consists of International Economy, International Priority, and International Domestic services. The International Domestic service represents international intracountry operations.
In fiscal 1Q17, the International Economy business' average daily volumes grew 1.1%, along with a 1.7% rise in revenues, compared with fiscal 1Q16. However, the International Priority average daily volumes declined 1% along with a 2% decline in year-over-year revenues. The overall International Export Package yield rose 1.4%, mainly due to the favorable impact of rate and discount changes, offsetting the negative effects of exchange rates.
Article continues below advertisement
Outlook
FedEx (FDX) Express forms 53% of the company's revenue and accounts for 55% of its profits. FDX expects margins to improve further, adding to the company's profitability. The company will merge the TNT Express NV operations into the FedEx Express Segment. However, for fiscal 2017, the company will report the operating results of the Express and TNT Express segments separately.
Effective January 2, 2017, FDX will increase the FedEx Express rates by an average 3.9%. Plus, the company will also change the dimensional weight divisor for this segment from 166 to 139. This should result in better revenues going ahead.
Investing in ETFs
Investors opting for investment in US transportation stocks—including airlines (DAL), railroads (CSX), trucking (JBHT), and other logistics companies (UPS)—can consider the First Trust Industrials/Producer Durables AlphaDEX ETF (FXR). Major US airlines and railroads make up 12.8% and 6.4%, respectively, of FXR.
In the next part, we'll review FedEx's Ground segment performance.