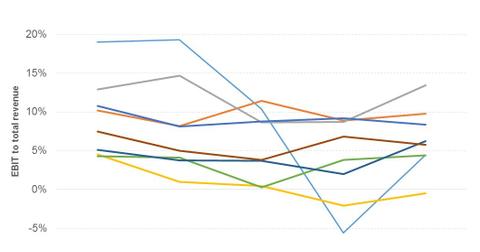 Which Fast Casual Restaurants Enjoyed the Highest EBIT Margins in 2Q16?
By Rajiv Nanjapla

Updated
EBIT margins
EBIT (earnings before interest and tax) are key to investment decisions because they indicate the efficiency of a company's business. EBIT also affects EPS (earnings per share) and should ultimately drive share prices.
Although commodity prices declined in 2Q16 over 2Q15, only three of our eight companies under review improved their EBIT margins in 2Q16. Negative same-store sales growth and higher investments were the main reasons for these declines in EBIT margins.
Article continues below advertisement
The leaders
With an EBIT margin of 13.4%, Shake Shack (SHAK) beat the other eight fast casual restaurant peers in 2Q16. Favorable commodity prices and sales leverage helped the company improve its margins from 12.9% in 2Q15.
SHAK was followed by Panera Bread (PNRA), which saw an EBIT margin of 9.7%. Panera's EBIT declined from 10.2% in 2Q15 due to labor inflation and an increase in G&A (general and administrative) expenses. However, the decline was offset by sales leverage from positive same-store sales growth and favorable commodity prices.
Panera was followed by Fiesta Restaurant Group (FRGI), whose EBIT margin declined from 10.8% in 2Q15 to 8.3% in 2Q16. A rise in labor wages and an increase in other operating expenses such as advertising, insurance, repair and maintenance led to this decline in its EBIT margin.
FRGI was followed by Potbelly (PBPB) which had an EBIT margin of 6.2% in 2Q16. The companies with the best business models tend to enjoy higher margins than peers.
The laggards
The EBIT margin of Noodles & Company (NDLS) declined from 4.5% in 2Q15 to -0.5% in 2Q16. This decline was due to increases in impairments, closure costs and asset disposals, and rises in wages.
NDLS was followed by Chipotle Mexican Grill (CMG), and Zoe's Kitchen (ZOES) with 4.4%. Negative same-store sales growth, rising investments in food safety measures, and increased marketing and promotional expenses all brought Chipotle's EBIT margin down from 19% to 4.4% in 2Q16. Declines in the cost of sales improved ZOES's EBIT margins from 4.3% in 2Q15 to 4.4%.
Habit Grill's (HABT) EBIT margin declined from 7.5% in 2Q15 to 5.8%. Rises in wages and a rise in occupancy and other operating costs brought HABT's EBIT margin down.
Next, we'll look at the EPS (earnings per share) and EPS growth of fast casual restaurants in 2Q16.