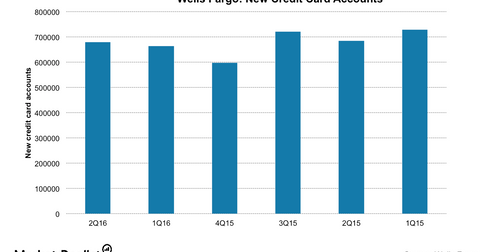 What's the Reaction to Wells Fargo's Scam?
By Rebecca Keats

Updated
Wells Fargo's reaction
In the morning on September 13, Wells Fargo said it would eliminate all product sales targets in its retail banking unit from January onwards. Last week, the CFPB (Consumer Financial Protection Bureau) slammed Wells Fargo (WFC) with a fine of $185 million due to fraudulent accounts. Approximately 5,300 Wells Fargo employees opened two million fraudulent accounts for customers who didn't authorize them. They also applied for 565,000 unauthorized credit cards.
Article continues below advertisement
Wells Fargo's cross-selling of products and strategies to increase sales raised several questions about the bank's culture and controls. The bank also tightened its compliance procedures. Wells Fargo is prepared to receive inbound inquiries from consumers about their accounts. The bank also fired the employees involved in the scam. "We want to make certain our customers have full confidence that our retail bankers are always focused on the best interests of customers," said CEO John Stumpf in a statement.
Wells Fargo has come under fire from senators after news of the scandal broke out and the CFPB fine was announced. Senators Elizabeth Warren, Sherrod Brown, and three other Democratic senators requested that US Senate Banking Committee Chairman Richard Shelby summon Wells Fargo's CEO John Stumpf for an investigation. Stumpf will be attending a hearing on September 20 in Washington, DC.
While the fine of $185 million likely won't have a significant impact on the bank, it could taint the bank's image. The bank (XLF) could also lose customers. The bank has the difficult task of restoring customers and investors' confidence.