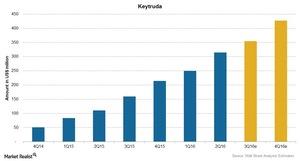 Exploring Keytruda, Merck's Immuno-Oncology Blockbuster
Keytruda  
In the last few articles, we've discussed Merck & Co.'s (MRK) major product developments. Keytruda is one of the key products in Merck's immuno-oncology portfolio. It's being studied for the treatment of over 30 tumor types and in over 160 clinical trials as either a monotherapy or with over 80 combinations of drugs.
Keytruda is currently approved for the treatment of various forms of cancer, including non-small cell lung cancer, melanoma, and metastatic head and neck cancer. Keytruda was launched by Merck in 4Q14, and its global sales were ~$314 million in 2Q16, compared to $110 million in 2Q15.
Article continues below advertisement
Present uses  
Keytruda is used for the treatment of melanoma, a type of skin cancer. It's used when melanoma has spread, when it cannot be removed by surgery, when the medicine ipilimumab hasn't worked or is no longer working, and when the tumor has an abnormal BRAF gene but a BRAF inhibitor hasn't worked.
Keytruda is also used for non-small cell lung cancer when the cancer has spread, when it tests positive for PD-L1, when chemotherapy containing platinum doesn't work, and when the tumor has an abnormal EGFR or ALK gene but EGFR or ALK inhibitors haven't worked.
Recently, Keytruda was approved for the treatment of patients with head and neck squamous cell cancer who have reported disease progression after platinum-based chemotherapy.
Geographical reach
In the United States, Keytruda has ~70% of the anti-PD-1 patient share in melanoma and is the number one therapy for melanoma in the United States across all classes of treatment.
Outside of the US market, Keytruda is launching in around 40 markets, including the European Union, where it's been approved for advanced first-line and second-line therapies of melanoma.
Some EGFR inhibitors used to treat various types of cancer include Iressa from AstraZeneca (AZN), Tarceva from Astellas Pharma (ALPMY), Tykerb from Novartis (NVS), Erbitux from Eli Lilly (LLY), and Vectibix from Amgen (AMGN).
Investors can consider ETFs such as the Guggenheim Dow Jones Industrial Average Dividend ETF (DJD), which holds ~4.5% of its total assets in Merck, in order to divest their risk.