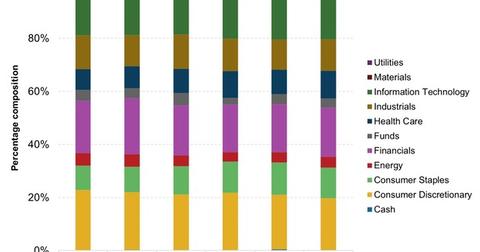 Examining Year-to-Date Portfolio Changes in AIIEX
By David Ashworth

Sep. 7 2016, Published 3:46 p.m. ET
Invesco International Growth Fund overview
The Invesco International Growth Fund (AIIEX) invests in the common and preferred stocks and depository receipts of foreign issuers. It aims to invest in at least three countries outside of the United States.
AIIEX's literature outlines that it may invest "up to 1.25 times the amount of the exposure to emerging markets countries, i.e., those that are in the early stages of their industrial cycles, in the MSCI All Country World ex-U.S. Growth Index."
Article continues below advertisement
Though large-cap companies form the bulk of the fund's portfolio, there may be times when it has significant exposure to mid-cap stocks. Fundamental analysis forms the core of the fund's research strategy, supported by quantitative analysis, portfolio construction, and risk management. AIIEX focuses on individual companies instead of country or sector trends.
The fund's assets were spread across 65 holdings in July 2016, and it was managing assets worth $8.7 billion as of July's end. In June, its equity holdings included WPP (WPPGY), CGI Group (GIB), Publicis Groupe (PUBGY), Suncor Energy (SU), and Ericsson (ERIC).
Portfolio changes in the Invesco International Growth Fund
AIIEX has invested the most in the consumer discretionary sector. However, the fund's assets are quite evenly spread across its top three sectors, the other two being financials and information technology, in that order. The industrials and consumer staples sectors also command over one-tenth of the fund's assets each. AIIEX isn't invested in the telecommunications services or utilities sectors.
We've looked at the quarterly portfolios of AIIEX for the past three years until June 2016. During this time, the fund's exposure to the consumer discretionary sector has fallen a bit, while its exposure to the consumer staples sector has noticeably risen. The materials and industrials sectors have also seen their respective shares in the portfolio fall.
On the other hand, financials and information technology stocks have seen marked increases in their portfolio weights. AIIEX was last invested in the telecommunications services sector in 1Q14 and the utilities sector in 3Q15.
How has this allocation worked for AIIEX in 2016? Let's take a look in the next article.