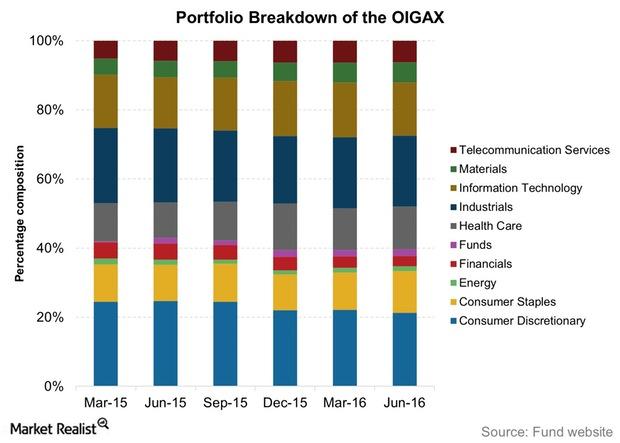 Examining OIGAX's Portfolio Changes Thusfar in 2016
By David Ashworth

Sep. 7 2016, Published 4:46 p.m. ET
Oppenheimer International Growth Fund overview
The Oppenheimer International Growth Fund (OIGAX) invests in the common stocks of growth companies located or functioning outside of the United States. It can invest its entire portfolio in foreign securities, and it may invest in both emerging and developed markets.
At any given time, the fund's geographic composition may show a regional bias. The fund isn't market cap–biased.
The bottom-up approach toward security selection forms the base of OIGAX's portfolio construction. It looks for companies that have strong competitive positions and whose earnings growths are accelerating. It invests in a diverse array of companies and industries in order to reduce the risk of foreign investing. The fund's management also looks for global trends and companies that could benefit from those trends.
The fund's assets were spread across 104 stock holdings in July 2016, and it was managing assets worth $23.3 billion. As of July, its equity holdings included Nippon Telegraph and Telephone Corporation (NTT), Heineken (HEINY), Carnival (CCL), Vodafone Group (VOD), and Grifols (GRFS).
Article continues below advertisement
Portfolio changes in the Oppenheimer International Growth Fund
The consumer discretionary sector is OIGAX's top invested sector, followed closely by the industrials sector. Each of these sectors forms over one-fifth of the fund's portfolio. Including the information technology sector, the top three invested sectors form 57% of the fund's assets. The consumer staples and healthcare sectors also command over one-tenth of the fund's portfolio each. The fund isn't invested in the utilities sector.
We've looked at the quarterly portfolios of OIGAX for the past three years until June 2016. Exposure to both consumer-focused sectors has increased compared to three years ago. However, consumer discretionary stocks now form less than the ~25% levels they saw intraperiod. The consumer staples and industrials sectors both saw their respective portfolio weights fall intraperiod, but they've since risen. The fund's management has lost interest in financials while moving its attention to telecommunications services stocks.
A notable aspect of the fund is its extremely low rate of portfolio turnover.
Has a steady portfolio benefited OIGAX year-to-date? We'll discuss this in the next article.