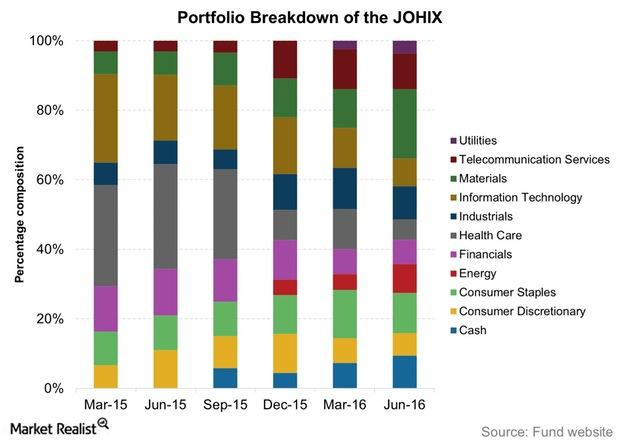 Examining JOHIX's 2016 Portfolio Changes So Far
By David Ashworth

Sep. 7 2016, Updated 4:46 p.m. ET
JOHCM International Select Fund overview
The JOHCM International Select Fund (JOHIX) invests mostly in the stocks of companies based outside of the United States. It can invest in emerging market equities as well. It can invest in common and preferred stocks, rights, and warrants, and across market caps.
The fund's literature classifies its investment approach as "multi-dimensional." Its managers look at a company's growth, valuation, size, and its stock's momentum and beta. The literature describes JOHIX's investment style as core with a modest growth tilt, or what it calls GARP (growth at a reasonable price). This style remains unchanged regardless of a company's market cap.
The fund's assets were spread across 48 holdings in July 2016, and it was managing assets worth $5.9 billion. As of June, its equity holdings included NTT DOCOMO (DCM), Franco Nevada (FNV), Royal Dutch Shell (RDS.B), Rio Tinto (RIO), and BP (BP).
Article continues below advertisement
Portfolio changes in the JOHCM International Select Fund
Unlike any other fund in this review, JOHIX has materials as its most invested sector. The sector forms one-fifth of the fund's portfolio. A distant second is the consumer staples sector, followed closely by the information technology sector. These three sectors together form 41% of the fund's assets.
Compared to the MSCI EAFE Index, the fund is markedly overweight the materials sector. Other sectors in which the fund is overweight are the energy, telecommunications services, and information technology sectors. Meanwhile, it's sharply underweight the financials sector and moderately underweight the healthcare, consumer discretionary, and industrials sectors.
The graph above is a testament to the drastic changes that have occurred in the fund's composition. Over the past three years until June 2016, a look at the fund's quarterly portfolios shows that the materials sector was not its most invested sector in 1Q16. Its weight drastically increased in just one quarter. 
Meanwhile, the telecommunications services sector formed less than 4% of the fund just one year ago, and it now forms double that amount. The utilities sector became part of JOHIX only in 1Q16. It was completely absent in all the preceding periods.
These sharp portfolio movements mean that the fund has a high rate of portfolio turnover. Another important aspect is its high cash position. It's also important to note that the fund is offered on a limited basis only.
How has JOHIX fared in 2016, and why? Let's take a look in the next article.