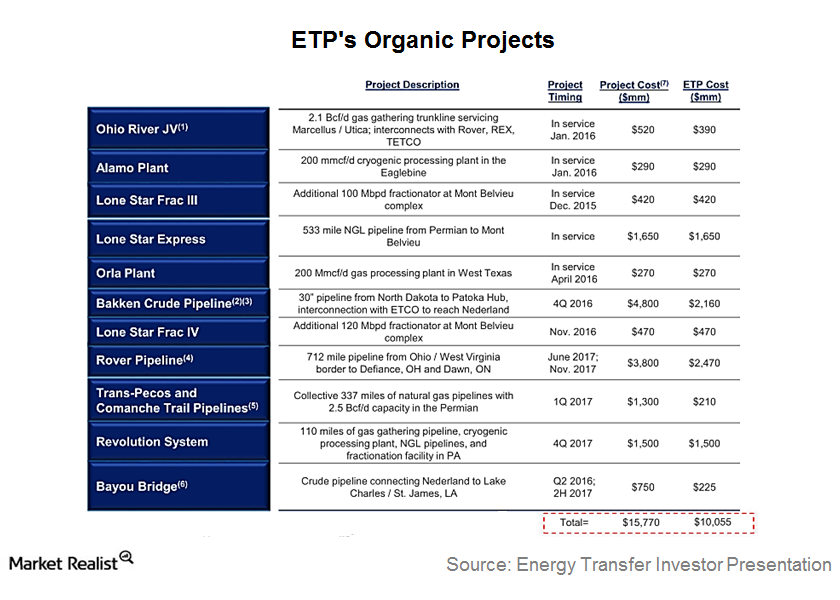 Why Protests against ETP's Key Pipeline Project Are Troublesome
By Kurt Gallon

Sep. 12 2016, Updated 10:04 a.m. ET
Dakota Access Pipeline project
Construction on Energy Transfer Partners' (ETP) ambitious Dakota Access Pipeline Project, which is part of the Bakken Pipeline project, has halted due to protests from the Standing Rock Sioux, a Native American tribe, near the Missouri river. The Dakota Access Pipeline is expected to carry 470,000 barrels per day of crude oil from the Bakken Shale in North Dakota to Illinois. The barrels would move further to the Gulf Coast through a different pipeline.
Article continues below advertisement
According to the Standing Rock Sioux, the planned pipeline runs through a sacred burial site and threatens to pollute nearby rivers. The tribe is looking for the cancellation of pipeline permits in a court ruling expected on Friday. The chance of the court ruling in favor of Native Americans might have brightened after opposition to the protest turned violent, and now the protest has become a movement supported by well-known environmental activists.
Energy Transfer Partners and Sunoco Logistics Partners (SXL), which together own 38.3% of the project, might receive a major setback if the project is delayed or canceled. The project had been fully contracted and was expected to generate significant cash flow stream for both MLPs once operational.
Other major projects
The above graph shows ETP's major organic projects that were recently placed into service or are expected to come online by the end of 2017.
Specifically, ETP is expecting the FERC (Federal Energy Regulatory Commission) to certify the Rover Pipeline at the beginning of 4Q16. The partnership anticipates that the pipeline will be "in service to the Midwest Hub near Defiance, Ohio by the end of June 2017 and to markets in Michigan and Union Gas Dawn Hub by November of 2017." ETP has started working on project financing for this project and might look for a strategic partner, similar to the Bakken Pipeline project.
The Revolution System will include a gathering pipeline, a processing plant, an NGL (natural gas liquids) pipeline, and a fractionation facility in Pennsylvania. The project is worth $1.5 billion and expected to come online in 4Q17.
The successful and timely completion of these projects is important for ETP to resume distribution growth while maintaining a distribution coverage above 1.
Now let's take a look at ETP's leverage.