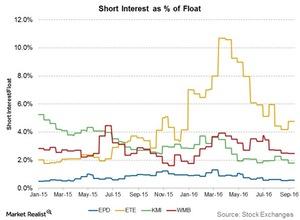 What Does Energy Transfer Equity's High Short Interest Indicate?
By Rekha Khandelwal, CFA

Sep. 22 2016, Updated 7:04 a.m. ET
Short interest as a percentage of float
Short interest represents the total number shares of a particular stock that have been shorted but haven't yet been closed out. As of September 14, 2016, Energy Transfer Equity's (ETE) short interest as a percentage of its float was 4.8%. ETE's short interest rose to as much as 10.7% at the end of 1Q16. It was in the process of pursuing a merger with Williams Companies (WMB) around that time, which likely resulted in increased short interest in its stock.
Short interest in ETE's stock has fallen since then, but it's still high compared to the short interests of Enterprise Products Partners (EPD), Kinder Morgan (KMI), and Williams Companies.
The average of short interest as a percentage of float is 2.8% for all Alerian MLP Index (AMZ) members and 2.9% for the energy sector. A high short interest as a percentage of float, as well as any sudden increase in short interest, indicates that more investors expect a stock's price to fall.
However, the price may not necessarily fall, either because investors could be wrong or because the price could increase as investors buy the stock to cover their short positions.
The above graph depicts the movements in short interest for the four companies under discussion.
Article continues below advertisement
WMB's short interest
Short interest in WMB's stock as of September 14, 2016, was 2.5%, a fall from nearly 3.7% at the beginning of July. This fall likely indicates that fewer investors now expect WMB's price to fall in the near future compared to those who thought so at the start of July.
Enterprise Products Partners' short interest is the lowest among the four companies under review.
Short interest ratio
The short interest ratio indicates the number of days it will take for short sellers to cover all of their positions in a stock. It's calculated by dividing short interest by the average trading volumes for a particular stock. 
The short interest ratios for EPD, ETE, KMI, and WMB are 1.7x, 5.7x, 2.4x, and 1.7x. So, the longest amount of time it'll take to cover all open short positions in a stock is 5.7 days for ETE.