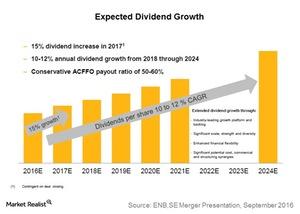 What Enbridge Saw in Spectra Energy to Prompt Buy
By Rekha Khandelwal, CFA

Sep. 8 2016, Updated 5:17 a.m. ET
Diversification benefits
Enbridge's (ENB) acquisition of Spectra Energy (SE) offers diversification benefits to Enbridge by expanding into SE's natural gas business from ENB's mainly crude oil operations. Enbridge expects steady, long-term growth from natural gas operations "from demand pull assets into U.S. northeast, southeast, and Gulf Coast."
Al Monaco, president and chief executive officer of Enbridge, said, "Over the last two years, we've been focused on identifying opportunities that would extend and diversify our asset base and sources of growth beyond 2019." Monaco went on to say, "We are accomplishing that goal by combining with the premier natural gas infrastructure company to create a true North American and global energy infrastructure leader."
Article continues below advertisement
10%–12% annual dividend growth through 2024
Enbridge anticipates a 15% annualized dividend increase in 2017. Then, the company expects an annual 10%–12% dividend growth through 2024.
Enbridge's ACFFO (available cash flow from operations) per share is expected to increase at a 12%–14% CAGR (compound annual growth rate) from 2014 to 2019.
Fee-based earnings
Similar to Enbridge, Spectra Energy has a major part of its cash flows backed by long-term, fee-based contracts. The acquisition maintains Enbridge's low-risk model, with 96% of cash flows of the combined entity expected to be backed by take-or-pay or similar contracts.
Synergies
The acquisition is expected to achieve annual run-rate synergies of $415 million. The company expects most of this to be achieved in the last part of 2018. Additionally, the company says that ~$200 million of "tax savings can be achieved through utilization of tax losses commencing in 2019."
Energy companies are looking at mergers and acquisitions for growth, as organic growth remains difficult in the challenging energy commodity environment. In March 2016, TransCanada (TRP) acquired Columbia Pipeline Group.