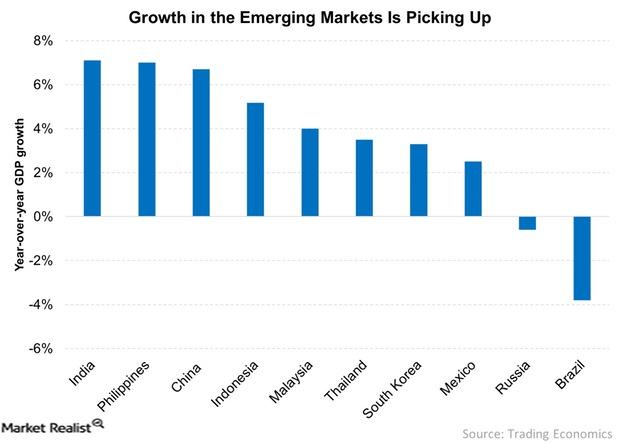 Why Emerging Market Bonds Have Done Well This Year
By VanEck

Aug. 18 2020, Updated 6:36 a.m. ET
It's Not Just About Yield
These flows provide a supportive technical backdrop for emerging markets debt. Meanwhile, growth remains tepid in developed markets, and central banks appear to be running out of ammunition. Conversely, many emerging markets central banks still have plenty of room to ease through conventional monetary policy and, with inflation remaining under control, many are expected to do so.
In addition to supportive technical and monetary policy, fundamentals appear to be stabilizing, and in many cases, improving in emerging markets economies. With economic growth expected to rise, the International Monetary Fund (or IMF) is forecasting that the growth differential between developed markets and emerging markets will increase in coming years. Debt-to-GDP ratios remain well below those of developed markets. Policy reforms such as those in India, Malaysia, and Indonesia are likely to be positive for investors, and support the case for focusing on higher quality sovereign bonds.
Article continues below advertisement
Market Realist – Why emerging market bonds have done well
Another supporter of emerging market assets (EEM) (EMLC) has been the higher expected GDP growth rate. The graph above shows the year-over-year GDP growth rates for the latest quarter in major emerging markets.
As you can see, many emerging markets are growing at healthy rates. Brazil and Russia are stark exceptions, as low commodity prices are still taking a toll on their economies. Meanwhile, developed markets are still struggling, growing at a tepid rate.
The above graph compares the debt-to-GDP ratios of some developed markets with those of some emerging markets. Surprisingly, emerging markets are better positioned in terms of debt compared to some developed markets.
Also, emerging markets have improved upon their fiscal positions, decreasing default risks on emerging market bonds (IGEM).