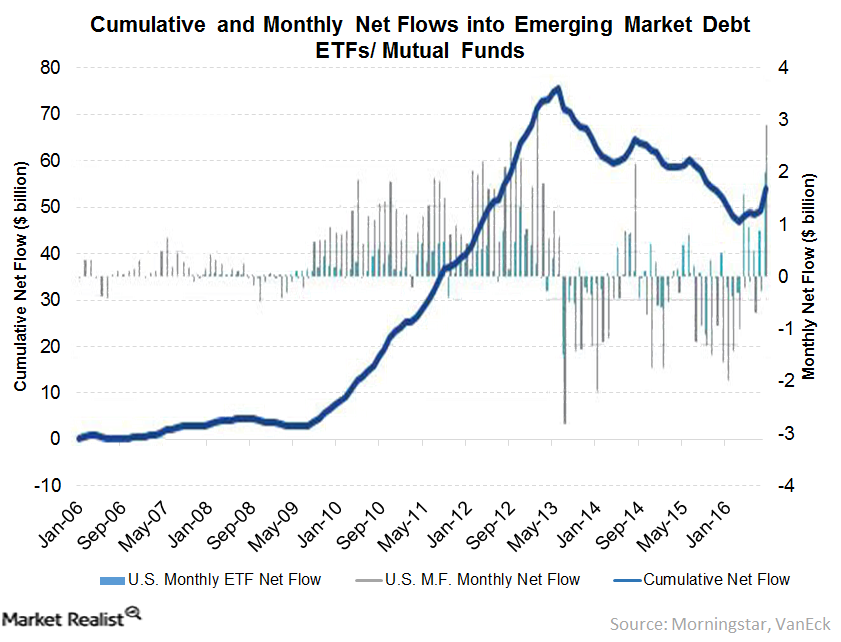 Emerging Market Bond ETFs Have Seen Record-Breaking Flows in 2016
By VanEck

Sep. 13 2016, Updated 1:24 p.m. ET
Looking closely at mutual fund and ETF flow data can provide some insight into how investors have approached the asset class this year.
Article continues below advertisement
Record-Breaking Flows Favor ETFs
July flows into emerging markets debt funds were record breaking at $13.3 billion globally, the highest monthly inflow for the category since Morningstar® began collecting data, bringing year-to-date inflows to $17.1 billion. Among emerging markets debt mutual funds and ETFs in the U.S., inflows totaled $4.9 billion. Although U.S. mutual fund data for August was not available at the time of this post, U.S. ETF flows of $1.3 billion (versus $2 billion in July) through August 26, 2016, suggest additional growth in emerging markets debt fund assets.
Digging deeper into the U.S. fund flow data, a preference for hard currency emerging markets debt can be seen with local currency strategies still negative overall through July. Flows into local currency ETFs have been positive since March with outflows concentrated in actively managed mutual funds. In fact, investors favored ETFs over mutual funds in both hard and local currency strategies so far this year, putting $5 billion into ETFs while pulling over $900 million out of mutual funds. These figures are even more impressive considering that at the end of July, ETFs held 23% of emerging markets debt assets under management.[1. Source: Morningstar] This suggests a growing appreciation for passive investing in emerging markets debt either as a replacement, or complement, to actively managed strategies.
Article continues below advertisement
Just the Tip of the Iceberg?
Despite the attention that emerging markets debt has received, the recent inflows are still far lower than the amount that departed the asset class over the past three years. From June 2013 through February 2016, $29 billion left U.S. mutual funds and ETFs representing the asset class.[1. Source: Morningstar] This may suggest that investors are still, as a whole, less allocated to emerging markets debt than they were in prior years. In addition, the assets currently invested may be "stickier" than those prior to the taper tantrum, resulting in less "flight risk" in case the tailwinds enjoyed this year fade or unexpected risks flare up.
Market Realist – Emerging market bond ETFs have seen record flows this year
The performance of emerging market assets (VWO) in 2015, including emerging market debt (EMB) (EMAG), as the graph above shows, declined towards the end of the year. We mentioned the factors behind this in the previous article. Also, as the Federal Reserve hiked rates in December 2015, the outflows from emerging markets rose amid investors' fears that there would be more hikes to come.
These pressures have more or less dissipated in 2016, leading to enhanced inflows into emerging market bonds, as the graph above shows.
In the next article, we'll discuss why emerging markets are in a much better position now compared to three years ago.