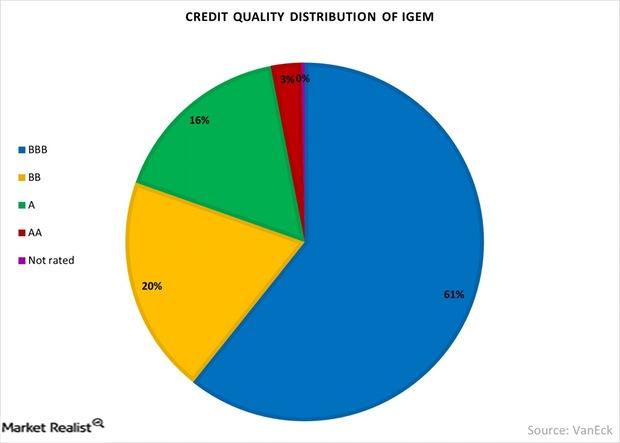 Which EM Debt ETF Gives You Exposure to Investment-Grade Bonds?
By VanEck

Sep. 29 2016, Updated 2:04 p.m. ET
BUTCHER: Why do you think it makes sense to focus primarily on investment grade sovereigns?
RODILOSSO: Some investors have been tripped up by some of the downgrades and performance of some of the more volatile lower rated EM countries, such as Venezuela, where there are very real concerns about potential default in the near future. I think these factors have changed the view on an asset class many investors saw as mostly investment grade. Therefore, an investment-grade dollar sovereign product appears to be attractive and appears to fill a need in the space.
BUTCHER: Where do you see IGEM fitting in an investor's portfolio?
Article continues below advertisement
RODILOSSO: IGEM may potentially be of interest to dollar-based investors or global fixed income investors who have a credit allocation. When you think of credit allocation, the first thing you think of is investment grade or developed market investment grade credit. EM investment grade sovereigns tend to offer a pickup in yield over the investment grade corporate space. Historically, it has been around 50 basis points and sometimes more. It's also fairly liquid and adds diversification to the portfolio.
For quality credit investors, we think an investment grade sovereign dollar product within EM potentially offers additional yield and diversification. Many traditional EM investors have become increasingly attracted to the asset class over the last decade due to the increased credit quality, which has been due to the fact that many emerging markets have righted their ships. The wave of downgrades that included some very important countries like Brazil and Russia, but probably more importantly, the highly volatile countries like Venezuela, have negatively impacted the perception of a broad allocation to EM.
Article continues below advertisement
EM is not a single asset class; there's much differentiation in terms of credit quality throughout. By isolating the higher quality end of the spectrum, we believe IGEM now presents a tool for those investors who are more comfortable with EM as a partial quality trade, not just a more speculative credit investment.
BUTCHER: Thank you.
Market Realist – IGEM gives you exposure to investment-grade bonds.
The above graph shows the credit quality distribution of the VanEck Vectors EM Investment Grade + BB Rated USD Sovereign Bond ETF (IGEM). About 80% of the components of IGEM fall under the investment-grade bracket, while 20% of the bonds are BB-rated. It's important to note that 79% of the components of IGEM are government bonds, while 20% are emerging market corporate bonds. The average maturity of the bonds comprising IGEM is 12.7 years.
The second graph shows the country weightings of IGEM's components. Mexican bonds make up 9% of IGEM, followed by bonds from the Philippines and Indonesia. They make up 7% and 6.8% of IGEM, respectively.
The average GDP growth of the above-mentioned economies, in the latest quarter, was a solid 3%—much higher than the growth in developed markets. As we saw in the first part of this series, economic growth can be linked to sovereign bonds with a better performance. Also, many of these economies have improved their fiscal positions over the last few years. As a result, it decreased the chances of default by the government.
The bottom line is that if you're looking to invest in emerging market debt, consider investing in IGEM. It gives you good exposure to investment-grade emerging market bonds. They're less risky and add diversification benefits to your portfolio.