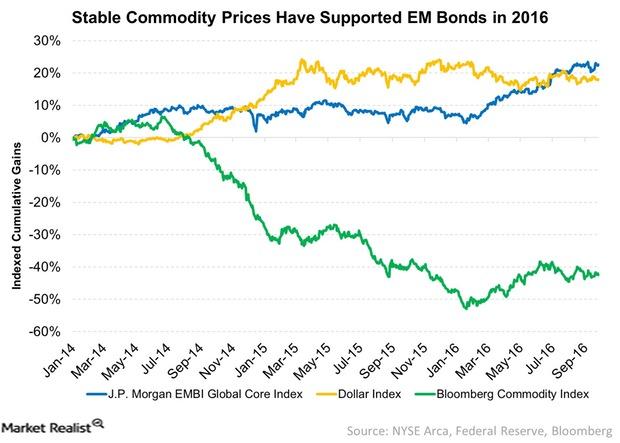 Why Emerging Market Bonds Outperformed in 2016
By VanEck

Oct. 19 2016, Updated 4:45 p.m. ET
FRAN RODILOSSO: Emerging markets (or EM) debt had over the last several years, leading up to early 2016 at the least, struggled as an asset class. Technically there were outflows from various parts of the EM debt universe. From a performance point of view, EM countries were suffering from lower commodity prices and a stronger dollar, which forced assets out of some emerging markets. It also caused some financial difficulties; current account deficits were ballooning in certain countries and those countries had to make adjustments, which meant weaker currencies and perceived weaker fundamentals.
Article continues below advertisement
Interestingly, coming into 2016, what were headwinds for EM suddenly turned into tailwinds. We've had a pause, stall, or end to the dollar rally, depending on your opinion. We've also had higher commodity prices associated with that development. We've seen fundamentals actually turn in some emerging markets. In other words, growth differentials between emerging markets and developed markets (or DM) started to swing back in favor of emerging markets overall.
Emerging markets throughout recent history have grown much more rapidly than developed markets, but that differential had been converging for several years. The EM to DM growth differential is an important fundamental to keep in mind, especially when talking about debt because growth is the best way to finance debt in some respects.
Market Realist – Why did emerging market bonds outperform in 2016?
The above graph compares the performances of the J.P. Morgan EMBI Global Core Index (EMB), which tracks emerging market bonds, with the Bloomberg Commodity Index and the Dollar Index (UUP) since the beginning of 2014. As commodity prices started to fall in mid-2014 due to fears of lower growth in China–which is a massive market for commodities–emerging market assets started to underperform. This is because many emerging markets, such as Russia, Brazil, and other Latin American economies, are commodity-oriented.
However, as the above graph suggests, emerging market bonds (EMAG) performed well in 2016. Commodities bounced back, which is perceived as a sign of improving fundamentals in emerging markets. It's important to note that not all emerging markets depend on commodities.
Emerging market economies have seen improved GDP growth in 2016, while developed markets are struggling to grow. As a result, emerging market bonds are more attractive, especially considering extremely negative yields on developed market bonds.