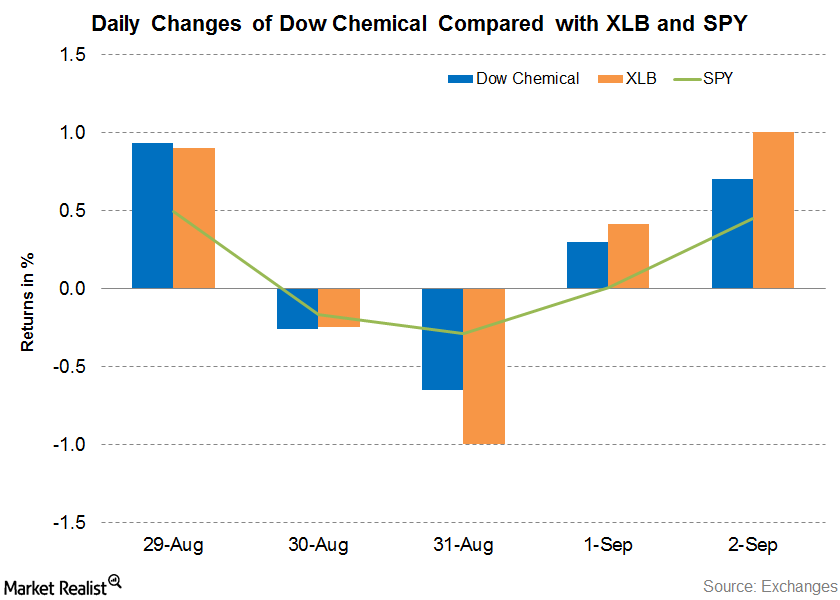 Dow Chemical and Sadara Announce Start-Up of Mixed Feed Cracker
By Peter Neil

Dec. 4 2020, Updated 10:52 a.m. ET
Dow and Sadara announce start-up of mixed feed cracker
On August 29, 2016, Sadara Chemical (SADARA), a joint venture of Dow Chemical (DOW), and Saudi Aramco announced the start-up of its mixed feed cracker (or MFC). Dow Chemical holds a 35% stake in this joint venture.
Cracker is a term used in the refining process that breaks down oil and gas into smaller molecules to produce ethylene, which is used to manufacture plastics. The MFC start-up, which contains 12 furnaces, will crack naphtha and ethane. Three of these furnaces can switch between gas and liquid feedstock.
Andrew N. Liveris, Dow Chemical's chair and chief executive officer, said, "Sadara is a fundamental cornerstone in Dow's strategic actions to deliver consistent, long-term earnings growth for our shareholders and enhanced value and market access for our customers."
The joint venture is a key project for Dow Chemical in order to get cost advantage growth in key regions such as Asia Pacific, the Middle East, India, Africa, and Eastern and Central Europe. The venture includes packaging, construction, electronics, and transportation.
The MFC unit is one of 26 of Sadara's units in the Jubail II Industrial City. The site will produce basic chemicals that will be converted into a wide variety of plastics. The facility is already serving more than 100 customers in 25 countries to date.
Article continues below advertisement
Dow's stock price
On September 2, 2016, Dow Chemical closed at $54.18. For the week of August 29–September 2, 2016, Dow rose 1.0%. The Materials Select Sector SPDR ETF (XLB), which holds 10.8% in Dow Chemical, rose by 0.2% and closed at $49.25.
Among Dow Chemical's peers, E.I. du Pont de Nemours (DD) rose by 0.6%, LyondellBasell Industries (LYB) rose by 0.7%, and Monsanto (MON) rose marginally by 0.05% for the week ended September 2, 2016. Dow Chemical is trading above its 20-day and 100-day moving averages, indicating an upward trend in the stock. On a year-to-date basis, the stock has risen by 5.2%.