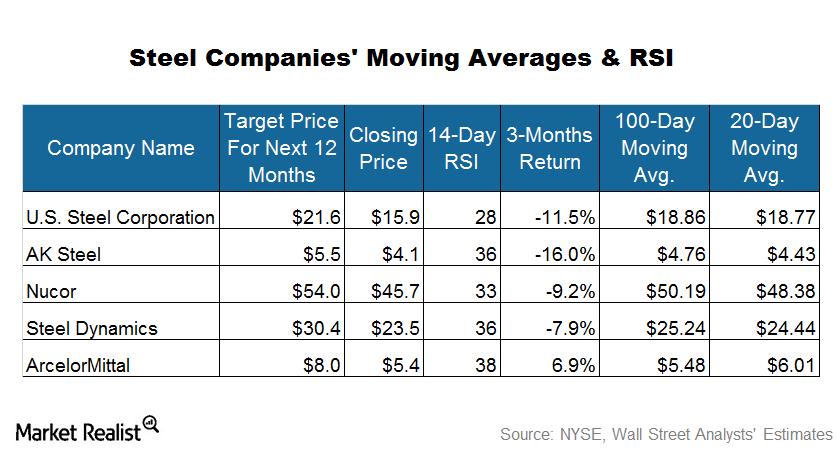 Does U.S. Steel Look Oversold after the Recent Sell-Off?
Oversold
Traders and investors analyze technical parameters when making market entry and exit decisions about stocks, and moving averages and the RSI (relative strength index) are among the most widely used technical parameters.
Generally, an RSI of below 30 signifies an oversold position, while an RSI of above 70 signifies an overbought position. In this part of the series, we'll look at U.S. Steel's (X) technical parameters and compare them with those of other steel companies.
Article continues below advertisement
RSI
Based on September 16, 2016, closing prices, U.S. Steel has a 14-day RSI of 27.5. The company looks oversold based on its 14-day RSI, and other steelmakers also look somewhat oversold as well, given their respective RSIs. AK Steel (AKS) and ArcelorMittal (MT) have 14-day RSIs of 36 and 32, respectively.
Moving averages
Also, after the recent sell-off (SPXS), most steel companies have now fallen below their short-term moving averages. Nucor (NUE) and Steel Dynamics (STLD) are trading 5.8% and 4.0% below their respective 20-day MAs (moving averages). U.S. Steel is also trading below its short-term and intermediate-term MAs. However, thanks to the sharp up move earlier this year, U.S. Steel is still trading 6% above its 200-day MA. The 200-day MA could act as a crucial near-term support for U.S. Steel.
However, fundamentally, U.S. Steel faces several headwinds in 4Q16. (You can explore these in detail in the Market Realist series U.S. Steel Crashed in August: Could September Bring Relief?)
Meanwhile, sell-side analysts still seem to be on sidelines despite the US steel industry's deteriorating fundamentals. We'll discuss this further in the next part of the series.