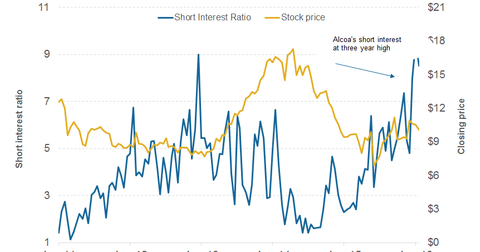 Do the Bears Sense an Opportunity in Alcoa's Split?
By Mohit Oberoi, CFA

Sep. 21 2016, Updated 7:05 a.m. ET
Alcoa's split
Before we analyze Alcoa's (AA) short positions, let's first discuss a few key terms. Short interest tells us the number of shares that have been sold short (SDS) (SPXS). Exchanges release the short interest every two weeks. Short interest tells us the mood of the general market with respect to a particular security.
From the short interest, we can derive the short interest ratio, which is the short interest divided by the average daily traded volume. The ratios that measure short interest and short interest to market capitalization basically standardize the short interest.
Article continues below advertisement
Short interest ratio falls
According to the latest update, Alcoa's (AA) short interest ratio stood at 8.5 on August 31. The company's short interest ratio was 9.5 on August 15. Although Alcoa's short interest has fallen in the most recent update, it is still among the most frequently shorted stocks.
Rio Tinto (RIO) and Century Aluminum (CENX) had short interest ratios of 3.6 and 6, respectively, on August 31. BHP Billiton's (BHP) short interest was 4.5 on August 31.
Bears taking chances
The market bears seem to be taking their chances with Alcoa's (AA) split. Notably, before the 2015 split announcement, Alcoa's short interest averaged ~2.5 if we take a simple average of the updates that occurred every two weeks.
However, long-term investors seem to be betting on value creation after Alcoa's split. You can explore this in more detail in Traders and Investors Take Opposite Position on Alcoa's Split.
In the coming parts of this series, we'll explore the various opportunities and challenges that Alcoa and Arconic would face after the split. Let's begin by looking at the short-term challenges that Alcoa could face.