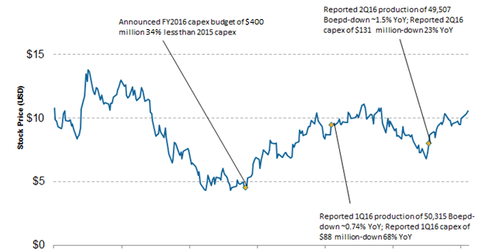 Details about Oasis Petroleum's Recent Debt Offering
By Keisha Bandz

Updated
Key management objectives
Oasis Petroleum (OAS) has taken several steps to counter lower commodity prices, including capital reductions. The company reduced its 2016 capex (capital expenditure) by 34% from 2015. Its capex budget for 2016 is $400 million.
Many upstream companies have reduced their 2016 capex in response to lower energy prices (USO) (UNG). Newfield Exploration (NFX) and Concho Resources (CXO) lowered their 2016 capex by ~50% and 35%, respectively, from 2015. Anadarko Petroleum's (APC) 2016 capex is ~50% less than its 2015 capex.
Article continues below advertisement
Oasis Petroleum's recent announcement
On September 13, 2016, OAS announced an offering of $250 million senior convertible notes due 2023. The offering comes with a 30-day option for underwriters to purchase an additional 37.5 million notes. The net proceeds from this offering will be used for funding separate tender offers.
On the same day, OAS separately announced a tender offer to purchase four series of its senior notes. These include its 7.25% senior notes due in 2019, 6.5% senior notes due 2021, 6.87% senior notes due 2022, and 6.87% senior notes due 2023, for a cash consideration of up to $275 million.
Apart from the proceeds from the offering of the new notes, OAS noted that it might consider additional revolving credit facility borrowings, if the need arises, to purchase its existing notes.
Key management comments
In the 4Q16 press release, Oasis Chairman and Chief Executive Officer Thomas Nusz stated: "Our continually improved capital and operational efficiency coupled with our strong well performance in our core acreage continues to improve the trajectory of returns for Oasis."
In the next part, we'll look at price targets for Oasis going forward.