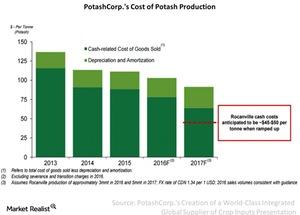 How Declining Prices Led PotashCorp to Scramble
By Adam Jones

Updated
Sustaining margins
With capacity expansions, companies such as PotashCorp (POT), Agrium (AGU), Mosaic (MOS), and CF Industries (CF) have pushed costs lower through economies of scale. Let's look at the example of PotashCorp, which is already the lowest-cost producer of potash.
Article continues below advertisement
Costs to go down further?
In 2016, PotashCorp's cash cost per ton of potash (excluding depreciation and amortization) stands close to ~$75 per ton, which the company expects to reduce to around ~$58 per ton in 2017. With Rocanville, PotashCorp expects to further reduce the cash costs to around ~$45 to $50 per ton. Including depreciation and amortization, the cash cost could be anywhere between ~$75 and ~$85 per ton.
Joining hands with Agrium
With Agrium, the production cost of potash is expected to come down by $4 per metric ton or ~10%, and phosphate costs are expected to come down by $70 per metric ton, according to both companies. These reductions are expected to provide both companies with $125 million in synergies. In comparison, the average potash realized prices were $154 per metric ton in 2Q16 and $196 per metric ton in 1Q16, and the company's margins averaged 35% in the first half of 2016. In the past ten years, the company's margins have been 50% to 60%. Margins were even lower for nitrogen and phosphate fertilizers.
Article continues below advertisement
While some companies have announced the closure of their facilities to balance out with the demand side, the market remains challenging. As we saw in the earlier part of this series, the market (VAW) can't absorb this capacity even after considering closures. Learn more at Comparing 8 Fertilizer Companies' Performances in 2Q16.
The alternative plan
With an intent to drive volumes, PotashCorp (POT), which is already the lowest-cost potash producer, plans to make a deal with Agrium (AGU). Through this merger, the company expects to drive its cost down for all three NPK fertilizers (IYM). But more importantly, this merger will help both companies drive volume.