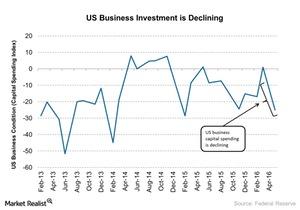 David Rubenstein: Why US Business Investment Is Declining
By Sarah Sands

Nov. 20 2020, Updated 4:50 p.m. ET
David Rubenstein's view on US business investment
David Rubenstein discussed the US business environment in the interview. He said that US (QQQ) (SPY) (IVV) business spending is declining. Business communities in the US (VFINX) (IWM) aren't expanding their capital investment.
Article continues below advertisement
Business spending is declining
US companies aren't expanding their business activities because they think that they have enough capital goods and spare capacity to meet their current and future sales requirements. They can generate products and services by utilizing existing production facilities. They're also waiting for any major policy changes in the economy.
Growth in capital spending by US companies (VFINX) (QQQ) on plants and equipment slowed to 0.6% in June 2016—compared to 5.5% growth in June 2015. This indicates that consumer demand in the economy hasn't been accelerating. Slowing consumer demand is a major risk to the US economy (SPY) (IWF).
The Fed utilized most of its monetary tools to spur growth in the economy. The easy money provided by the Fed has been utilized by corporate houses to increase capital spending in the economy. However, in recent years, they haven't increased capital spending mainly due to uncertainty in the economy. Business communities in the US are waiting for any major fiscal or monetary policy changes in the economy after the US presidential election. Read Is Fiscal Spending the Solution to Economic Stagnation? to learn more.
In the next part of this series, we'll analyze David Rubenstein's view on healthcare spending in the economy.