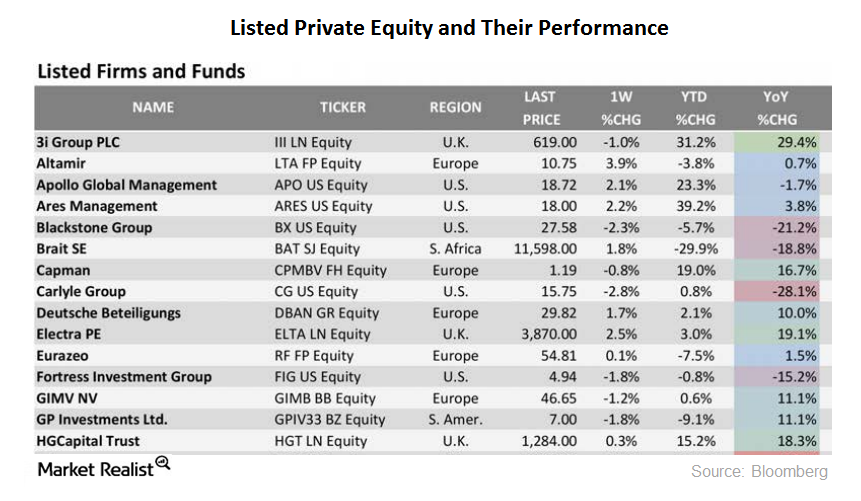 Private Equity Returned More than Any Other Investment
David Rubenstein's discussion in the interview
In an interview with Wall Street Week on September 2, 2016, David Rubenstein, co-founder and co-CEO of The Carlyle Group, discussed his views on the following:
Article continues below advertisement
Private equity
David Rubenstein said that "the prices of private equities are nearly at all-time high, the average EBITDA (or earnings before interest, tax, depreciation and amortization) or cash flow multiples of this are over ten times. Just before the great recession it was 9.5 times." Prices are at an all-time high. This could be why investors are concerned about investing in private equity.
He also said that in the last five years, private equity returned more money to investors than any other investment. Currently, the S&P 500 index (SPY) (VOO) is trading near its all-time high. The market (QQQ) has gone through a lot of changes. During the economy's upward business cycle, the market movement was supported by the cyclical sectors (XLE) (XLB). During the economy's downward cycle, the defensive sectors (XLP) supported the market movement.
Many hedge fund managers and mutual fund managers' performance varied according to the changes in the business cycle in the last five years. However, the private equity industry provided more return to investors compared to other industries. In the lower interest rate environment, the cost to private equity also remained lower. So, businesses tried to provide maximum return to shareholders.
Rubenstein also thinks that to get a good return, investors have to face various challenges. If the funds aren't able to provide decent returns in a few quarters, he said that doesn't mean investors should withdraw their money from the fund. This isn't a sign of committed investors. He thinks that the $1.4 trillion private equity industry will perform better in the near future.
In the next part of this series, we'll analyze David Rubenstein's view on US business conditions.