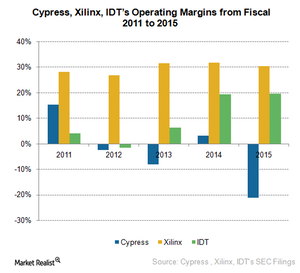 Cypress's Product Portfolio Well-Placed to Tap the IoT Revolution
By Puja Tayal

Sep. 29 2016, Published 2:39 p.m. ET
About Cypress
Cypress Semiconductor (CY) isn't among the top 10 semiconductor companies in the world, but it's made the news. It's been an active participant in mergers and acquisitions and has been moving fast to tap the IoT (Internet of Things) revolution.
Let's look at the company's history and its business.
Article continues below advertisement
Where it all started
Cypress was formed in 1982 by Thurman John Rodgers and other employees from Advanced Micro Devices (AMD). The company started with the development of memory chips and logic devices and later expanded its portfolio through acquisitions. It currently offers a complete IoT solution of memory, microcontrollers, wireless connectivity, and sensors.
Over the years, Cypress has grown to become a company with 6,300 employees and operations worldwide. China (FXI) and Japan are its key markets, accounting for more than 70% of its sales.
Cypress's product portfolio
Cypress's product portfolio comprises PSoCs (programmable systems-on-chip), general-purpose MCUs (microcontrollers), analog ICs (integrated circuits), power management ICs, wireless and USB-based connectivity solutions, CapSense capacitive touch-sensing controllers, and high-performance memory chips.
The company has divided its products into the Programmable Systems, Data Communications, and Memory Products divisions.
The company largely caters to the automotive and industrial markets, which account for 58% of its revenue. It also caters to consumer electronics, medical, and home automation markets.
Article continues below advertisement
Cypress R&D efforts
Cypress has also created a separate division for Emerging Technologies, where it spends a huge amount on R&D (research and development). Even Intel (INTC) has created a separate division for emerging technologies to track spending and returns on new technologies.
Cypress has developed fan-out wafer-level packaging technology under its subsidiary Deca Technologies. The company has licensed this technology to Advanced Semiconductor Engineering.
Cypress's earnings
Cypress has volatile earnings. Over the past five years, the company has had annual revenues of between $700 million and $1 billion. In 2015, however, its annual revenue doubled to $1.6 billion as it integrated Spansion.
Over the past five years, Cypress has maintained a gross margin in the range of 50% to 55%, lower than its rivals Integrated Device Technology's (IDTI) and Xilinx's (XLNX) 60% and 70%, respectively. However, Cypress's gross margin halved in 2015 due to the large inventory brought by Spansion.
Cypress's operating and net margins have been very volatile, posting losses in three out of the past five years. On the other hand, XLNX has reported profits in the past five years, while IDTI has reported profits in four of the past five years.
Cypress's volatile earnings are due to the acquisitions it undertakes from time to time to expand its portfolio. The company started paying dividends in 2011 and has been paying an annual dividend of $0.44 for the past four years.