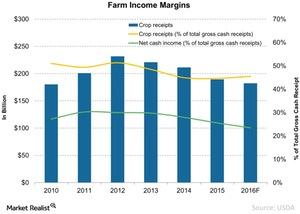 How Current Agribusiness Environment May Increase Consolidations
By Adam Jones

Sep. 23 2016, Updated 8:07 a.m. ET
Maintaining market share
In the earlier part of this series, we saw that the potash fertilizer industry (MXI) is fraught with overcapacity. This is also true for nitrogen as well as phosphate fertilizers. To maintain market share, companies have taken measures to offer deep discounts to farmers, but these measures have failed to help the companies involved as evident in their declining earnings. So, what's happening?
Article continues below advertisement
Farm income falls
Declining prices can squeeze farmers' margins. Since farmers have no control over selling prices (of crop commodities), they try to manage their input costs more carefully. The US is the key market for both Agrium and PotashCorp, and most of Agrium's retail locations are concentrated in the US. In the chart above, we can see that the farm's net cash margins in the US have contracted since 2011. In 2016, the USDA (United States Department of Agriculture) expects this margin to drop to 23.5% from 30.3% in 2011.
Fertilizer spending declines
The lower margins are negative for fertilizer companies such as PotashCorp (POT), Agrium (AGU), Intrepid Potash (IPI), and CF Industries (CF), as we can see in the chart above. The fertilizer spending as a percentage of total cash expense has also fallen over the past five years. According to the USDA, fertilizer spending is expected to fall to 7.2% in 2016 compared to 8.9% in 2011.
In the above scenario where fertilizer capacity is building up and farmers are cautious about spending, some fertilizer companies have resorted to selling at (or even below) cost of production. This is not sustainable for the long term. Therefore, driving the cost of production down has become the key issue pressing this industry. Thus, consolidation through mergers and acquisitions have emerged as the best strategy.
Next, we'll look at how the PotashCorp-Agrium merger is expected to drive down production costs further.