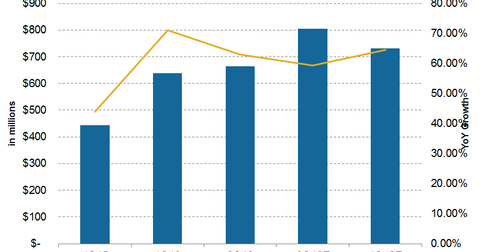 Ctrip Looks to Internet, Outbound Travelers to Grow Revenue
By Ally Schmidt

Sep. 2 2016, Published 2:22 p.m. ET
Ctrip.com's revenue
In 2Q16, Ctrip.com's revenue (CTRP) rose to $664 million, a 62.9% year-over-year (or YoY) rise compared to its 2Q15 revenue of $407 million. Quarter-over-quarter, its revenue rose by 4%, mainly on account of seasonality.
Article continues below advertisement
China's growing travel demand
Ctrip has been able to achieve high growth in 2015 and 2016, mainly because China's travel industry itself is growing at such a high rate. This is expected to continue throughout the rest of 2016, given China's shift from an investment-based economy to a consumption-based economy and its increasing online penetration.
In 1Q15, China's online travel market rose by 50%. According to PhoCusWright, it's expected to continue its high double-digit growth and reach a size of over $70 billion by 2017. CTRP is well placed to capture this growth.
Focus on outbound travel
Outbound (international) travel is expected to rise at higher rates, increasingly contributing to both the hotel and transportation segments.
According to James Liang, Ctrip's CEO, currently China's outbound travelers form only 10% of its total population, a number much lower than that seen in the United States or South Korea. Also, China's per-capita income is $8,000, a point beyond which outbound travel is historically known to grow.
As China's per-capita income catches up with the developed world, more and more Chinese citizens are bound to travel beyond Chinese borders. This will be one of Ctrip's focus areas, adding to its revenue growth.
Ctrip's outlook
CTRP's management expects its 2Q16 revenue to rise in the range of 70%–78% YoY. However, this outlook includes the revenue of Qunar, of which Ctrip is now the primary owner.
This means standalone revenue growth of 30%–35%, slower than the company's 2015 revenue growth rate of 40%–42%. Keep in mind that Ctrip doesn't provide a breakdown of its core revenue.
China's slowing economy and the ongoing fight between OTAs (online travel agencies) and Chinese airlines are expected to be a couple of the reasons for this growth deceleration.
CTRP forms 1.7% of the First Trust NASDAQ-100 Ex-Technology Sector ETF (QQXT). QQXT also holds 1.6% in Priceline (PCLN), 1.6% in Expedia (EXPE), and 1.5% in TripAdvisor (TRIP).