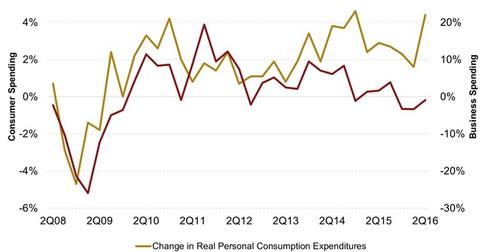 Consumer Spending Is Going Great, but Business Spending Isn't
By David Ashworth

Updated
Consumer spending has helped
The US economic engine isn't chugging along rapidly, but it isn't at a standstill either. However, policymakers have a favorable view of economic growth in the country. The primary reason for their positivity is consumer spending. A rise in wages, which Janet Yellen also alluded to in her post-September-policy media conference, has helped households spend more.
Over two-thirds of economic output is made up of consumer spending. Economic growth and the fates of companies like Coca-Cola (KO), Costco Wholesale (COST), and Proctor & Gamble (PG) are dependent on how much consumers are willing to spend. Instruments investing in these companies (XLY) (FBGRX) (HCAIX) are also impacted by a shift in consumer spending trends.
Consumer spending has been robust, having risen at a 4.4% annual pace, the best since 4Q14, in the latest reported figures for 2Q16. In their September policy statement, policymakers observed that "household spending has been growing strongly." However, business spending continues to worry them.
Article continues below advertisement
Business spending is a cause of concern
Non-residential fixed investment, also known as non-residential business spending, has contracted for three successive quarters now. While consumer spending had risen 2.3% and 1.6% in 4Q15 and 1Q16, respectively, business spending contracted 3.3% and 3.4%, respectively, in these periods. And even though its pace has slowed to -0.9% in 2Q16, it remains firmly in negative territory.
The consumer spending metrics are the reason that the September monetary policy statement said that "business fixed investment has remained soft." Fed chief Janet Yellen expressed this sentiment in her post-policy conference in which she said that "Investment spending really has been quite weak for some time and we are really not certain exactly what is causing that."
Continued job additions have been good news so far, and there's hope that business spending may come out of negative territory, as sustained negative contribution can potentially impact the pace of hiring as well. We'll look at labor market metrics in the next article.