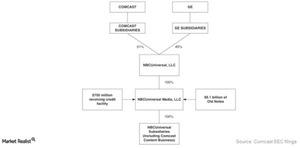 How's That NBCUniversal Buy Going for Comcast?
By Shirley Pelts

Updated
Comcast's acquisition of NBCUniversal
Comcast's (CMCSA) acquisition of NBCUniversal has been a game changer for the company. In 2011, Comcast closed the acquisition of a 51% stake in NBCUniversal from General Electric (GE). Comcast acquired the 51% stake in NBCUniversal for a cash payment of $6.2 billion and also contributed the Comcast Content business to the joint venture, which included cable channels like E! and some of Comcast's regional sports networks.
The chart below indicates the ownership structure in 2011 when Comcast acquired a 51% stake in NBCUniversal from GE.
In 2013, Comcast acquired General Electric's (GE) remaining 49% stake in NBCUniversal for $16.7 billion.
Article continues below advertisement
Benefits of Comcast owning NBCUniversal
Comcast was asked about the benefits of owning NBCUniversal at the Nomura Media, Telecom & Internet Conference last month. The company cited the example of the Olympics and said that its investment in the X1 platform had resulted in the company promoting its content in a different way, including the Rio Olympics. The company also cited data from Nielsen that indicated that "Olympics ratings within Comcast homes is 19% higher than it has been outside of Comcast."
Comcast further stated that its acquisition of NBCUniversal had resulted in offering viewers different options of viewing content including on linear television networks and streaming of content online.
Comcast also said that another benefit of the acquisition has been "experimentation" when it comes to taking risks. The company elaborated on it further, stating: "Our ability to take risks with each other even we just were able to enable some addressable video advertising campaigns for NBC and where we have similar partnerships with other networks. Those are the kinds of things that maybe wouldn't happen if not for our ability to take risks together in a very compelling way."
In the next part, we'll discuss Comcast's X1 set-top box.