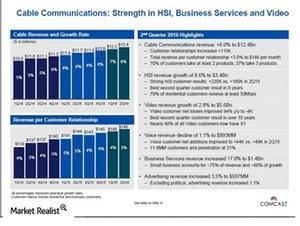 Why Did Comcast Launch a Prepaid Offering?
By Shirley Pelts

Sep. 13 2016, Updated 10:04 a.m. ET
Rationale behind Comcast's prepaid offering
As US pay-TV operators like Comcast (CMCSA) and DISH Network (DISH) continue to face subscriber churn, pay-TV companies are trying to target new customers with a host of new offers.
Last month, Comcast announced its Xfinity Prepaid services, which would allow people to renew their subscriptions or sign up for Comcast's television or Internet service for a duration of seven or 30 days without a credit check or signing a contract.
Article continues below advertisement
Comcast explained the rationale behind the service at the Nomura Media, Telecom & Internet Conference last month, stating that it is targeting customers that are "either unbanked or underbanked and may not be able to traditionally participate in the Internet and cable TV ecosystem." Comcast believes that its prepaid offering will be a profitable way to serve these customers.
Notably, Comcast's Cable Communications business saw revenues of $12.4 billion in fiscal 2Q16, which was 6% higher year-over-year.
DISH's view of Comcast's prepaid service
When asked about Comcast's Xfinity Prepaid service during the company's fiscal 2Q16 earnings call, DISH Network Chairman and CEO Charles William Ergen noted that prepaid services are "a good way" to target a "less credit-worthy customer."
Ergen added that DISH does something similar because "there are profitable customers in the prepaid world, and certainly in the wireless world," and so it "would make sense for Comcast to look at" prepaid services."
Ergen clarified, however, that with prepaid services, "you're probably not dealing with the $1,000 SAC to get that customer" and so companies offering them would "have to balance your SAC versus your churn rate versus your ARPU and margins."
Now let's explore Comcast's plans for the wireless space.