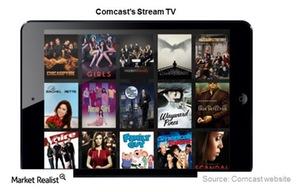 Why Comcast Is Not Backing down on Its Stance toward Market Segmentation
By Shirley Pelts

Updated
Comcast's market segmentation
Comcast (CMCSA) is offering different products in its triple-play services (voice, video, and high-speed Internet) based on market segmentation. For example, Comcast's Internet Plus plan is for Millennials, or people in the 18–39 age group, who are not very interested in streaming videos but would like high-speed Internet.
Comcast stated at the Nomura Media, Telecom & Internet Conference last month that its X1 set-top box is an excellent example of its market segmentation strategy. The company elaborated on this further by stating that its X1 set-top box has not only resulted in reduced churn for its video business but has also seen a rise in the overall consumption of content.
Article continues below advertisement
The company also cited the example of Xfinity on Campus, stating that it "serves universities and gives people a TV experience that doesn't require a set-top box or a TV at all. It's allowed us to create this stream product that we've started to roll out earlier this year that's effectively a set-top boxless residential video product."
Stream TV is another product by Comcast that offers live streaming video. The service is priced at $15 per month.
Why market segmentation?
Comcast stated that its products like the X1 set-top box and Xfinity on Campus allow it to "to tailor the experience to the specific audience that we're trying to serve, and that type of flexibility allows us to go to market in a much stronger way than we otherwise would be able to."
By offering different products among Comcast's triple-play services, Comcast is catering to Millennials, who want a different type of content and who tend to be heavy video viewers. Offering different products means Comcast can upgrade an existing customer instead of losing the customer to its competitors. It also suggests that market segmentation could result in the reduction of involuntary churn for Comcast, which could drive up the company's ARPU (average revenue per user) for its cable communications business.
Continue to the next part for a look at Comcast's innovations in high-speed Internet.