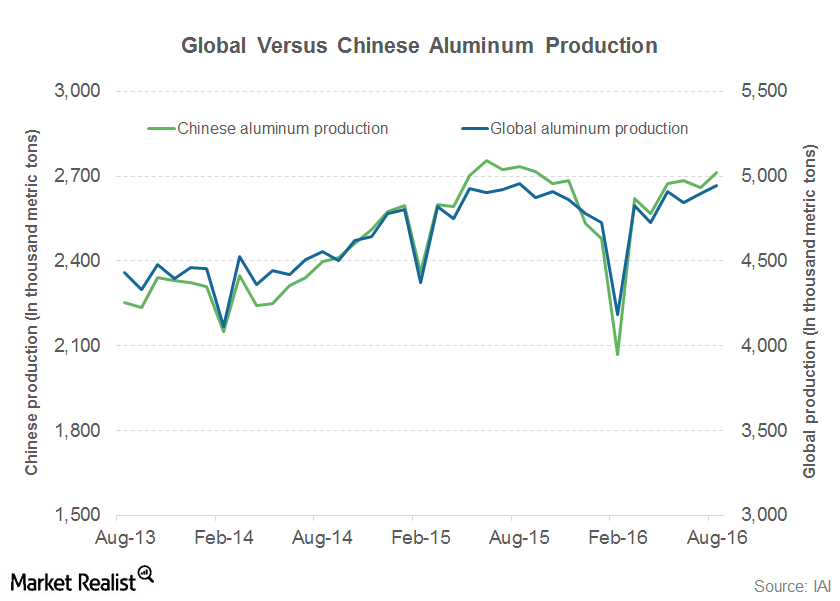 Chinese Aluminum Production Continued to Fall in August
Chinese aluminum production
During their respective 2Q16 earnings calls, some aluminum producers said that they expect Chinese aluminum production to rise in the second half of the year. For instance, Century Aluminum's (CENX) CEO Mike Bless sees restarts of idled Chinese smelters combined with the incorporation of new capacity as risks to global aluminum markets in 2H16. According to Bless, Chinese aluminum production could increase in the "high single digits" in fiscal 2016. This would mean a sharp YoY (year-over-year) increase in the second half of the year.
During its 2Q16 call, Norsk Hydro's (NHYDY) CEO Svein Richard Brandtzaeg also pointed to possible restarts of some of the Chinese smelters in the second half of the year.
Article continues below advertisement
Production fell
However, Chinese aluminum production continued to fall in 2H16. According to the data released by the International Aluminum Institute, China produced 2.7 million metric tons of aluminum in August—down 0.8% from the same month last year. On a year-to-date basis, Chinese aluminum production (ACH) has fallen 2.8% in the first eight months of the year. The country's aluminum production has fallen on a YoY basis in every month this year with the exception of March.
Global scene
Looking at the global picture, aluminum production has fallen 1% YoY in the first eight months. The fall in Chinese aluminum production has been somewhat compensated by an increase in ex-China production. Aluminum markets could still record a deficit this year unless Chinese production rises sharply in the remaining four months of the year.
The projected deficit is supporting aluminum prices (DBB). Meanwhile, Alcoa (AA) investors should also keep track of Chinese aluminum demand indicators. In the next part, we'll look at China's real estate data in August.