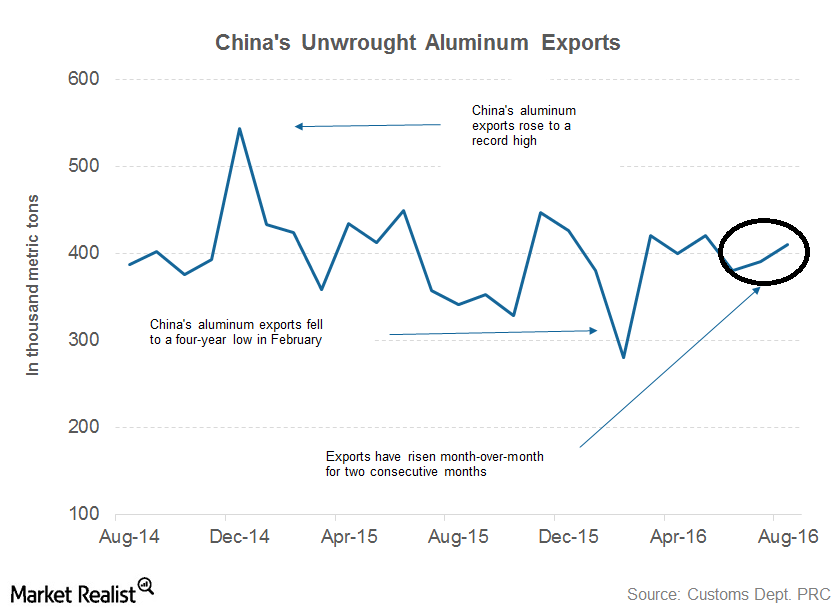 China's August Aluminum Exports: Are Market Fears Coming True?
China's August aluminum exports
One of the major challenges for the global aluminum industry has been the rise in Chinese aluminum exports. Aluminum producers such as Alcoa (AA) have been blaming their woes on Chinese aluminum exports.
China's aluminum exports rose by 10% YoY (year-over-year) in 2015. Facing flak from most of its trading partners, China announced late last year that it would curtail its excess aluminum capacity. Chinese aluminum production has fallen 3.1% YoY in the first seven months of the year. Lower production combined with a stimulus-fueled demand pickup kept Chinese aluminum exports in check so far this year. However, we have started to see an increase in Chinese exports.
Article continues below advertisement
August exports rise
China exported 410,000 metric tons of unwrought aluminum in August. This represents a YoY increase of 20.4%. Also, Chinese aluminum exports have risen on a month-over-month basis for two consecutive months. However, given the steep decline in Chinese aluminum exports earlier this year, the country's aluminum imports are still down almost 4% YoY in the first eight months of the year.
Outlook
Although Chinese production fell in 1H16, some aluminum producers expect the country's aluminum supply to ramp up in 2H16. During its 2Q16 earnings call, Century Aluminum (CENX) expressed apprehension about growing Chinese supply in 2H16. The company sees restarts of idled Chinese smelters and the incorporation of new capacity as risks to global aluminum markets in 2H16. Norsk Hydro (NHYDY) also pointed to possible restarts of some Chinese smelters (ACH) in the coming months.
In the next part, we'll see what could drive Chinese aluminum exports in the coming months.
You can also consider the Materials Select Sector SPDR ETF (XLB) to get diversified exposure to the materials sector. Currently, metal producers form 12.3% of XLB's portfolio.