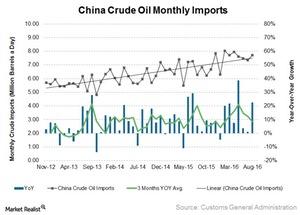 China Had the 2nd-Highest Crude Oil Imports in August
By Sue Goodridge

Dec. 4 2020, Updated 10:53 a.m. ET
China's import-export data
China's total exports in dollar terms fell 2.8% YoY (year-over-year) in August 2016. Its imports rose 1.5% compared to the same period last year. The import and export data both came in better than expected. In July, they were lower than market expectations.
August was the first time in 22 months that China has recorded a YoY increase in imports. Crude oil imports for China are now at a record high and a good sign for crude oil tanker investors.
Article continues below advertisement
China's crude oil imports for August
China's crude oil imports rose to 32.6 million metric tons in August 2016, the second-highest since December 2015. On a per-day basis, imports were 7.7 mbpd (million barrels per day), which was 22.5% higher than 6.3 mbpd recorded in the same period last year.
China (FXI) (MCHI) imports most of its oil by sea. Higher crude oil imports mean higher crude oil tanker demand, and higher tanker demand translates to higher tanker rates, all else being equal.
Higher tanker rates benefit crude oil tanker companies such as Frontline (FRO), Teekay Tankers (TNK), Tsakos Energy Navigation (TNP), Nordic American Tankers (NAT), DHT Holdings (DHT), Gener8 Maritime (GNRT), Navios Maritime Midstream Partners (NAP), and Euronav (EURN).
Why imports rose?
The rise in crude oil imports was partly driven by independent refineries. These refineries are taking advantage of low oil prices and importing more before their import quotas expire in December.
According to a Reuters report, 19 Chinese refineries have received 2016 crude oil import quotas of 75 million metric tons, or 1.5 mbpd as of August 18, 2016, according to a Chinese refinery executive. The same report said that imports by teapot refineries have contributed around 20% of China's incremental crude oil imports in the first eight months of the year.
China's crude oil imports for the first eight months of 2016 totaled 250.2 million metric tons, a 13% rise YoY. Imports have remained above 30 million metric tons since February.