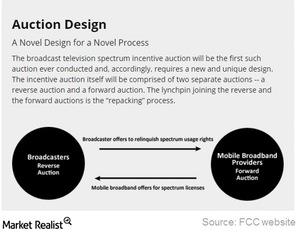 Why Did Charter Activate Its MVNO Agreement with Verizon?
By Shirley Pelts

Updated
Charter's MVNO agreement with Verizon
Charter Communications (CHTR) is going full speed ahead in a bid to enhance its wireless business. According to a FierceCable report from September 21 citing Charter CEO Tom Rutledge, Charter is going to activate its MVNO (mobile virtual network operator) agreement with Verizon Communications (VZ). Tom Rutledge was speaking at the Goldman Sachs Communacopia Conference earlier this month.
According to the FierceCable report, in 2011, Verizon had purchased an AWS-1 (Advanced Wireless Services) spectrum from Comcast (CMCSA), Bright House Networks, Cox, and Time Warner Cable. As a part of this agreement, Verizon had offered access to use the company's wireless network "in a potential MVNO offering."
Charter also stated at the Communacopia Conference that if this agreement is activated, it will be an attempt by Charter to woo non-customers in Charter's footprint with a wireless offering.
Article continues below advertisement
Comcast's activation of agreement with Verizon
Comcast is another company that has also activated its MVNO agreement with Verizon. It has renewed a 2011 agreement with Verizon that would allow it to resell Verizon's wireless service. In effect, Comcast will become an MVNO for Verizon. As an MVNO, it will get access to Verizon's network services at wholesale rates and will sell these services to its customers.
Comcast also stated at the Goldman Sachs Communacopia Broker Conference this month that the company expects to launch its wireless service by mid-2017. The company has also recently recruited Greg Butz to head its wireless business. The company further stated that considering that it has around 28 million customers, and if 70%–80% of its customers buy a "multi-package bundle" from the company, the company is hopeful about selling these customers more of its products.
Comcast has also participated in the FCC's (Federal Communications Commission) broadcast television spectrum auction. The FCC's broadcast television spectrum auction consists of two parts: a forward auction and a reverse auction. In the forward auction, mobile broadband providers will bid for flexible usage of wireless spectrum licenses. In the reverse auction, television broadcasters will give up their usage rights for the 600 MHz spectrum.