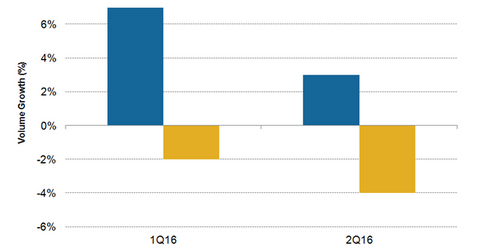 How PepsiCo's Dealing with Consumers' Declining Appetite for Soda
By Sirisha Bhogaraju

Sep. 26 2016, Updated 4:04 p.m. ET
Soda is losing its fizz
Weak soda volumes in developed markets such as the United States have become a major roadblock for nonalcoholic beverage companies. These companies include PepsiCo (PEP), Coca-Cola (KO), and Dr Pepper Snapple (DPS).
Health-conscious consumers are shifting from soda beverages to still or noncarbonated beverages. The carbonated soft drink or soda beverage volumes of PepsiCo's North America Beverages segment fell in the first two quarters of fiscal 2016.
Article continues below advertisement
Volumes in the previous quarter
The overall volume of PepsiCo's North America Beverages segment fell 1% in fiscal 2Q16, which ended on June 11, 2016. This fall was caused by a 4% fall in PepsiCo's soda volumes, partially offset by a 3% rise in noncarbonated beverage volumes. The fall in 2Q16 soda volumes was higher than the 2% fall in 1Q16.
The rise in the volume for noncarbonated beverages in 2Q16 was driven by the company's water portfolio and Lipton ready-to-drink teas. That rise was partially offset by a fall in Gatorade sports drink volumes.
PepsiCo's peers are also experiencing better volume growth in the noncarbonated beverage category compared to the soda category. In 2Q16, Dr Pepper Snapple reported a 1% rise in soda volumes, which was lower than the 2% rise in its noncarbonated beverage volumes. Coca-Cola's soda volumes fell 1% in 2Q16, while its still beverage volumes rose 2%. Monster Beverage (MNST) continues to enjoy a strong demand for its energy drinks, which helped sales rise 19.3% in 2Q16.
Growth strategy
PepsiCo is trying to revive its soda sales through innovation products and marketing initiatives. In August 2016, the company announced the nationwide launch of Stubborn Soda, a new line of crafted sodas in five flavors. In March 2016, it launched Mountain Dew Black Label, a carbonated soft drink made with real sugar and crafted with dark berry flavor as well as herbal bitters.
PepsiCo is also innovating in the growing still beverage categories such as sports drinks. Its new product in this category is Organic Gatorade.
In the next part of our series, we'll take a look at the 3Q16 earnings expectations for PepsiCo.