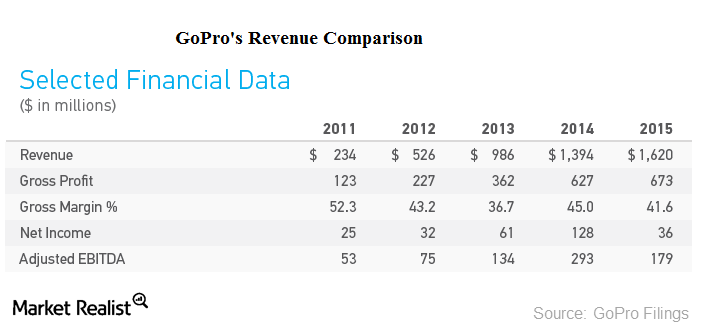 GoPro Recognizes Need for Innovation to Drive Revenue Growth
Revenues rose 16.2% in fiscal 2015
GoPro (GPRO) aims to develop the world's most versatile capture devices. In order to be successful in this market segment, GoPro noted that its needs to focus on innovation that enables market penetration and leadership.
GoPro stated, "We will seek to leverage our brand strength and product expertise to opportunistically enter new device categories, including the planned launch in 2016 of GoPro's drone, Karma, as well as devices to enable virtual reality content capturing."
As shown in the above chart, GoPro's revenue growth has been significant in the last five years. Revenue rose from $234 million in fiscal 2011 to ~$1.6 billion in fiscal 2015. GoPro was founded in 2004 and was publicly listed in 2014.
Article continues below advertisement
How did GoPro perform in 2Q16?
GoPro (GPRO) posted revenue of $220.8 million in 2Q16 and fell 47.4% YoY (year-over-year). Analysts estimated revenues of $194.3 million for the quarter, with a low estimate of $165 million and a high estimate of $220 million.
In 2Q16, revenue for GoPro (GPRO) rose 20% quarter-over-quarter to $221 million. The company shipped 759,000 units in 2Q16, a rise of 8% quarter-over-quarter. The average selling price (or ASP) rose 11% compared to 1Q16.
Driven by channel inventory reductions, the company's revenue fell 47% YoY in 2Q16. Although GoPro's revenue rise has been impressive since fiscal 2011, it has fallen drastically YoY in the last three reported quarters.
GoPro's sell-through rate in 2Q16 fell 10% YoY and rose 10% quarter-over-quarter. Sell-through is the percentage of units shipped that are actually sold. For the second consecutive quarter, the company's sell-through was 50% higher than its sell-in.