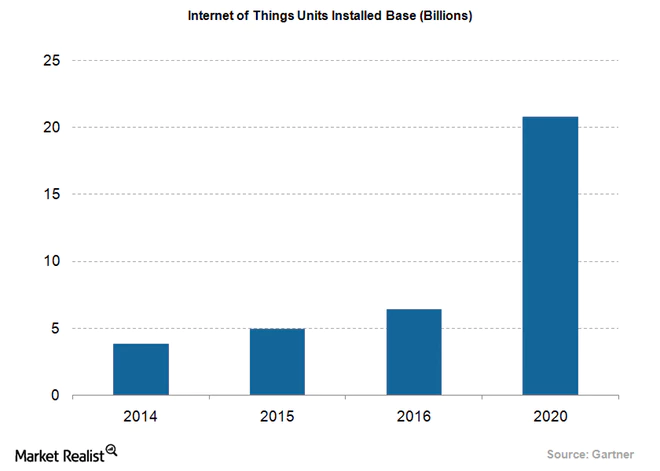 Can BlackBerry Penetrate the IoT and Connected Cars Segment?
By Adam Rogers

Oct. 4 2016, Updated 11:04 a.m. ET
IoT in the transportation space
BlackBerry (BBRY) is ramping up its channel expansion to drive growth in the IoT (Internet of Things) space for the transportation sector. In fiscal 1Q17, the company brought in new leadership and launched a global partner program.
The company also signed 107 new partners, resulting in a 10% rise in its global partner count. This included a major software distribution agreement with HCL in India (INDA).
Article continues below advertisement
At the Mid-Atlantic Trucking Show in fiscal 1Q17, BlackBerry announced BlackBerry Radar, its tracking service. This solution was designed to track freight and cargo using a cloud-based IoT platform. Caravan Transport Group was BlackBerry's first live customer on the tracking radar for 500 units in trucks, and BBRY is planning to expand it to 1,500 vehicles.
The IoT market is poised for robust growth. According to a Gartner report, and as the chart above shows, the IoT installed base is expected to grow from 3.8 billion in 2014 to 20.8 billion in 2020. This expansion represents a compound annual growth rate (or CAGR) of ~33%. According to another report from Gartner, the global IoT market is expected to reach $7 trillion by 2020, growing at a CAGR of 21%.
Connected Cars segment
Another growth driver for BlackBerry is QNX, which is a commercial real-time operating system that resembles Unix. QNX, which BlackBerry acquired in 2010, is aimed at the embedded systems market.
QNX has a footprint in the automotive segment, which gives BlackBerry a competitive edge in the connected car space. At the Consumer Electronics Show earlier this year, BlackBerry announced a new QNX software platform for ADAS (advanced driver assistance systems) and automated driving.
Hama Automotive was BlackBerry's first paying customer in its Connected Car segment in fiscal 2Q17. In 2015, BlackBerry signed a deal with Intel (INTC), which chose QNX for its smart car initiative. It also partnered with Texas Instruments (TXN) and NVIDIA (NVDA) to develop solutions for ADAS. 
Apple (AAPL) CarPlay, and Google (GOOG) Android Auto also opted for QNX software last year, which was another big win for BlackBerry.