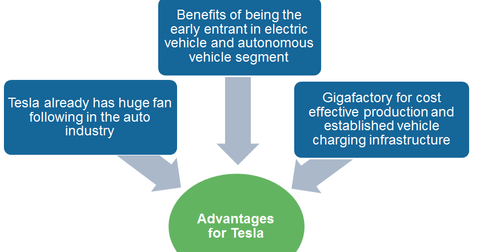 Can Apple's Billions Help It Be a Formidable Tesla Competitor?
By Jitendra Parashar

Updated
Tesla versus Apple
Previously, we looked at some key highlights of the upcoming upgrade of Tesla's (TSLA) Autopilot feature. As an early entrant in the autonomous vehicle space, Tesla has had advantages over other companies in developing the technology for vehicle automation. 
These companies include automakers such as Ford Motor Company (F), General Motors (GM), and Fiat Chrysler (FCAU) and technology giants such as Google (GOOGL) and Baidu. According to a Wall Street Journal article, Apple (AAPL) could soon be another name in the list of these technology companies. In this article, we'll discuss how prepared Tesla is to tackle any possible future competition from Apple.
Article continues below advertisement
No official confirmation yet. But…
Earlier this year, in an interview with BBC, Elon Musk, founder and CEO of Tesla, called Apple's car project "an open secret." Although Apple hasn't yet officially confirmed any such project, Musk mentioned the company's recent hiring of hundreds of automobile engineers.
Apple has changed the fundamentals of various industries, including the smartphone and music industries, with its innovative products in the past.
How prepared is Tesla?
It won't be a surprise if Apple announces its electric vehicle with autonomous capabilities in the year to come. The real challenge will be bringing innovation to differentiate its automobile product from the offerings of existing players including Tesla. In addition, now that the race to develop autonomous vehicles and low-cost electric vehicles has accelerated, it could be more challenging for Apple climb to the top in the segment.
Tesla, which has an Apple-like fan following in the automobile industry, currently rules the US electric vehicle segment. Tesla could benefit from being one of the first automakers to publically offer partial autonomous capabilities in its vehicles.
However, we can't deny the fact that before Apple launched the iPod and the iPhone, the market already looked saturated with products in these respective segments. Remember the craze for the Sony Walkman and the Blackberry smartphone?
The automobile industry (XLY) is highly capital intensive in nature, and it's not easy to design and start manufacturing vehicles for a new entrant overnight. However, unlike Tesla, Apple is in a position to invest a huge amount of cash from its balance sheet into automobile product development.
Continue to the next part to know how Tesla's valuation multiples are trading currently.