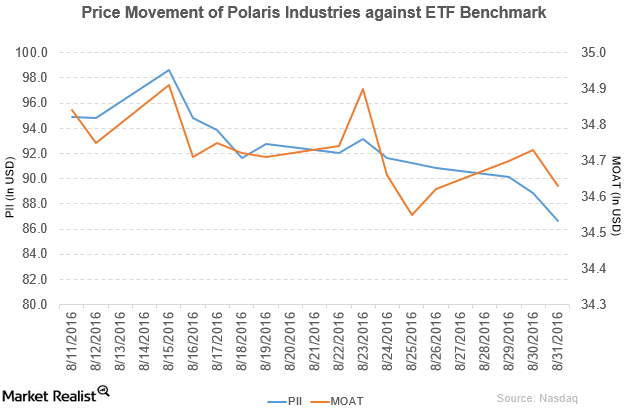 Brunswick Acquires Indoor Cycling Group to Broaden Its Portfolio
Price movement
Brunswick (BC) has a market cap of $4.2 billion. It fell by 0.13% to close at $45.99 per share on August 31, 2016. The stock's weekly, monthly, and year-to-date (or YTD) price movements were -1.1%, -4.7%, and -8.0%, respectively, on the same day. BC is trading 3.5% below its 20-day moving average, 3.2% below its 50-day moving average, and 1.5% below its 200-day moving average.
Article continues below advertisement
Related ETFs and peers
The Vanguard S&P Mid-Cap 400 Growth ETF (IVOG) invests 0.28% of its holdings in Brunswick. The ETF tracks a market-cap-weighted index of growth companies culled from the S&P 400. The YTD price movement of IVOG was 11.1% on August 31.
The iShares Dow Jones US ETF (IYY) invests 0.02% of its holdings in Brunswick. The ETF tracks a broad, cap-weighted index of companies covering 95% of the US market.
The market caps of Brunswick's competitors are as follows:
Latest news on Brunswick
In a press release on August 31, 2016, Brunswick "announced it has completed its acquisition of Indoor Cycling Group (ICG), a market leader specializing in the design of indoor cycling equipment. ICG, based in Nuremburg, Germany, is now part of Life Fitness, a unit of Brunswick."
According to Brunswick chairman and CEO Mark Schwabero, "this transaction is another step in our efforts to broaden and deepen our fitness product portfolio as well as secure a strong leadership position in group training, a growing sector of the fitness market." The German competition authority has approved this acquisition. The terms of this acquisition have not been disclosed.
Article continues below advertisement
Performance in 2Q16
Brunswick reported 2Q16 net sales of $1.2 billion, a rise of 9.1% over the net sales of $1.1 billion in 2Q15. Sales of the company's Marine Engine, Boat, and Fitness segments rose by 4.4%, 5.4%, and 32.2%, respectively, between 2Q15 and 2Q16.
The company's cost of sales as a percentage of net sales fell by 0.05% and its operating earnings rose by 5.0% between 2Q15 and 2Q16. It reported restructuring and integration charges of $2.6 million in 2Q16.
Brunswick's net income and EPS (earnings per share) fell to $108.1 million and $1.17, respectively, in 2Q16, compared with $117.8 million and $1.25 in 2Q15. It reported adjusted EPS of $1.19 in 2Q16, a rise of 13.3% from 2Q15.
Brunswick's cash and cash equivalents fell by 25.0% and its inventories rose by 3.2% between 4Q15 and 2Q16. Its current ratio and debt-to-equity ratio fell to 1.9x and 1.3x, respectively, in 2Q16, compared with 2.0x and 1.5x, respectively, in 4Q15.
Projections
The company made the following projections for 2016:
revenue growth rates of 10%–11%, including 5% from acquisitions announced in 2015 and 2016
adjusted EPS of $3.40–$3.50
positive free cash flow of more than $200 million
In the next article, we'll look at Mattel (MAT).