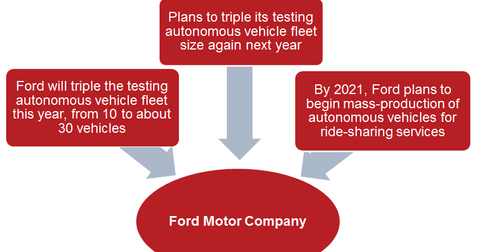 Behind Ford's Attempts to Drive Innovation in the Autonomous Vehicle Space
By Jitendra Parashar

Updated
Ford
When we think of innovation in the auto industry, we can't forget the concept of the moving assembly line, which was introduced in 1913 by Henry Ford and revolutionized the automotive industry. Now, Ford Motor (F) plans to revolutionize the autonomous vehicle space the same way—by reducing costs.
Article continues below advertisement
Speeding up testing
Ford has been working on the research and development of autonomous vehicles for more than a decade. The company now has a fleet of about ten Ford Fusion Hybrid sedans that have been designed to test vehicle automation technology.
Earlier this year, Ford announced its plan to triple the size of this testing fleet to ~30 vehicles. This would make the company's autonomous testing fleet the largest in the industry. Notably, Ford intends to triple the fleet size again next year.
The 2021 plan
By 2021, Ford plans to begin mass-production of SAE Level 4 (see Part 2 of this series) autonomous vehicles for ride-sharing services, which would be in line with its Smart Mobility business plan. We should note that Ford Smart Mobility is a subsidiary of Ford Motor and primarily designs, builds, and invests in emerging mobility services.
According to Mark Fields, Ford's President and CEO, the company's 2021 autonomous ride-sharing vehicles will not have steering wheels, gas pedals, or brake pedals in them. Ford has promised to deliver these fully automated vehicles in a very short time period.
Meanwhile, automakers (XLY) General Motors (GM), Fiat Chrysler Automobiles (FCAU), and Tesla Motors (TSLA) are also working to develop autonomous vehicles. But Ford is still the first mainstream automaker to have announced a mass-production plan for fully autonomous vehicles with a deadline.
Continue to the next part for a look at Ford's recent collaboration with tech start-ups.